At around 6 PM Friday evening, July 22nd, 2016, a mass shooting (involving multiple victims of gun violence) started in started in Munich in the popular McDonald's Restaurant at the Hanauer Strasse in the north and continued in the Olympia Einkaufszentrum (OEZ- shopping Mall) on the other side.




The first seven hours it was unclear whether it was a terror attack or not.
The attacker, Ali David Sonboly, who acted alone, was a 18 years-old German-Iranian, born in Munich. He was living near by in the Maxvorstadt with his father and brother. He used a Glock 17 9mm hand gun and still had 300 rounds of ammunition left. He killed himself, when two policemen came close for attest.
9 people were killed by him, among them three were 14, two were 15, one was 17 and one 19 year old. A 20-year-old and a 45-year-old were also killed. 
27 were wounded, 10 with serious injuries.
He made a Facebook post claiming that he will offer drinks in the  McDonald's, asking his Facebook friends to join – "I invite you " he wrote
This happened two kilometers West of the Olympic Village, were PLO terrorists killed 11 Israel sportsmen in September 1972, during the Olympic games.
The shooting began in the McDonald's restaurant across the shopping mall- see video below
Public transport has been halted and people have been asked to stay away from public areas and better stay at home using 
Many people invited unknown people home via Twitter, as traffic was blocked.
Special police units like the legendary GSG 9 and the Austrian Cobra team joined the Munich polices which had 2,300 men involved to seal and control the city.
The police in Munich did an excellent job.
No indication of "Islamist terror" or a political motivation. The attacker was alone and is seen on video saying "I am German" (see video below on park house), with aggressive talking and shooting his pistol.
He had mental problems and had spent two months as an inpatient at a mental care facility in 2015 and was afterwards treated as an outpatient.  He had fears of contact with others. Neighbors described him as a friendly young man. 
The police found evidence in his room that he had been researching shooting rampages, including a book entitled "Rampage in My Mind – Why Students Kill". He was a fan of computer-kill-game "Counter Strike". He was fascinated by a mass murder in Winnenden in Germany, where a 17-year-old student had killed 15 young people in 2009. He even visited this city of terror last year. He admired Anders Behring Breivik, using the same pistol Glock17, who killed 77 young people in Norway June 22, 2011
He has planned the attack for a year.




Horror has struck yet another city, after an ISIS attack in Würzburg in Bavaria days ago and the large attack in Nice.
Munich, one of the largest cities in Germany, known for Oktoberfest and Bayern München soccer team,was put under partial lockdown as a shooting rampage was underway.
Police deployed helicopters and were actively searching for multiple gunmen, however after finding one gunman dead, they determined that it was an act of a single, lone wolf attacker.
It seems that the police force in Munich was not prepared to handle a crisis like this, as the police information response was extremely slow. They had said that they were looking for three suspects, but this was based solely on a couple eyewitness reports.
As of now there are no  links to ISIS and a Munich Police Spokesperson has said there is no indication to "Islamist terror", and according to ISIS propaganda channels:




Several videos of the event emerged:
Additionally there was a video that shows one of the attackers on top of the car park, saying "I am German" as onlookers shout abuses at him.
The scene was gruesome, as blood can be seen (warning: graphic)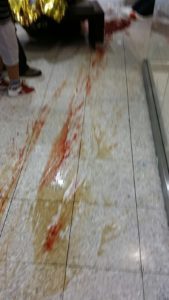 People began running out from the mall as seen below:
Later, police operations entered the mall as can be seen here:
Police have issued multiple warnings
As has the State Department
This is just the latest attack this week, following the attacks in Nice and the train attack in Germany.
Recently, intelligence leaders got together in Berlin and had discussed IS terror in Europe, saying that it was no longer an if, but when.




Image: Youtube