The leader of the Russian opposition party, Alexei Navalny, has now been found guilty of embezzlement and has been given a five-year suspended prison sentence that would all but make impossible his proposed run for president in 2018.
Presidential candidates are not allowed to have felony convictions.
The case is a retrial of a 2013 verdict in which the ECHR found procedural violations.
Alexei Navalny is one of the few openly vocal and critical politicians in Russia regarding corruption and Putin.
Questions are arising whether Putin will run in 2018, and he does not want a strong opponent if he does.
The Russian election rules say that candidates cannot have felony convictions, however, the anti-corruption activist has said he will appeal and continue his campaign "no matter what happens in court".
I've met Russian opp. leader Alexei Navalny, found him v. Impressive. Now he's been found guilty of embezzlement so can't run for Pres. Hmm.

— John Simpson (@JohnSimpsonNews) February 8, 2017
"What we saw was a telegram from the Kremlin saying that they consider me, my team and those people whose views I express too dangerous to allow us into the electoral race," Navalny said in the courtroom post- verdict.
"This verdict will be overturned. I have the full right under the constitution to participate in elections, and I will do so. I will continue to represent the interests of people who want Russia to be a normal, honest, not corrupt country."
This trial has widely been seen as a way of silencing one of Putin's most vocal critics. In the past Navalny was allowed to run for mayor of Moscow in 2013 while he was convicted of embezzlement from a state timber company in Kirov. This 2013 verdict is the case the Russian government has pushed for a retrial in after the European Court of Human Rights found procedural violations in the original trial.
Navalny's lawyer, Olga Mikhailova, said the new verdict did not address any of the ECHR's criticisms of the original trial as the verdict was based on the same evidence and assigned the same five year suspended sentence.
As the new verdict was being read out, Navalny tweeted out pages from the original verdict to prove that it had been copied verbatim. Asked before the verdict if the Kremlin was worried that Navalny would lose the right to run for president, Putin's spokesman, Dmitry Peskov, said: "We don't consider any such worries to be appropriate."
"The Kremlin hasn't decided yet if it needs a sparring partner, an effective opponent who will get 10% of the vote and give it legitimacy, and if it does who will it be," said the analyst Stanislav Belkovsky commenting on the flawed electoral process.
Putin does not want a strong opponent
Meanwhile, Marina Litvinenko, the widow of murdered Russian ex-spy Alexander Litvinenko, intimated that Vladimir Putin and his allies may have played a part in the court's decision.
She said: "All judges and all courts in Russia are not independent. All decisions that were taken about Navalny were taken because of someone's wish and now we know who this might be.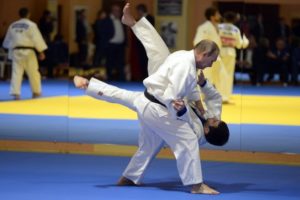 Electoral law states that he cannot be barred from the race while the verdict was still being appealed, and even if the Russian and international courts do not overturn the ruling, Russia's constitution only forbids citizens from running if they are currently serving a prison sentence.
"As we've said before: despite the guilty verdict, the campaign for Navalny to stand in the elections continues. And it will achieve victory," Leonid Volkov, a close advisor to Mr Navalny, wrote on Twitter after the verdict was read out.
"If you too dislike judges who word-for-word repeat verdicts that have already been found illegal and overturned, come here," he added in a tweet with a link to the campaign's website.
Big man Putin is in reality a tiny coward who doesn't dare any competition despite controlling all relevant media. #Russia #Putin #Navalny

— Anders Östlund (@andersostlund) February 8, 2017
Navanly rose in popularity during the street protests against the Kremlin in 2011-12 as his anti-corruption foundation continues to publish damning information about the extravagant wealth of government officials and their families.
Putin has said that he will not run again for president when his current term ends in 2018, but most experts still expect him to. Putin still has 80% approval ratings so a Navalny victory is unlikely.