ISIS has used its tech savvy to make its first app geared toward children.
The app is called Huroof, and it aims to help children learn Arabic letters. The app's premise and its appearance seem innocent at first glance, but make no mistake–this app is a recruiting tool.
At first glance, the app is just like any other app for small children. The app is brightly colored and cheerful, with graphics of balloons, flowers, and stars. The music in the app used to aid memorization sounds just like any other children's song. But suddenly, the cute cartoons that appear throughout the app aren't just flowers or stars, but military equipment. And when you pay attention to the lyrics of the song, you realize it is full of extremist jihadi rhetoric.
Watch the short video below to take a quick look at the actual Huroof app: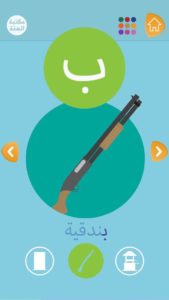 The Arabic letters shown are each associated with a word and a picture. The examples of the military vocabulary taught include the following among others:
"Ba" with a gun

"Dal" with a tank

"Ta" with a bullet

"Sad" with a rocket
ISIS' Library of Zeal department promoted the app with a press release which includes screenshots and a link to download the app. The release was distributed online through ISIS messaging channels on Telegram and on various file sharing sites popular among their followers. Despite being an Android-only app, it is not available through the Google Play store of course. 
Is this just more propaganda or is ISIS investing in the next generation? The app would seem to indicate ISIS has a long term recruitment and development strategy.
The original press release says it will "teach the cubs the letters of the alphabet". Note that ISIS refers to children as cubs of the caliphate, and adult fighters as lions. This shows how they view children not as innocent civilians, but as future soldiers. Their fate is already sealed by the terrorist group.
ISIS is investing in its next round of fighters. By exposing children to rhetoric and military terminology before they're even able to read, extremist activities and views will be normal for the new generation. By indoctrinating kids with militant ideology before they are grown, ISIS's ranks will continue to grow for many years and the recruitment cycle will remain unbroken.
This isn't the first time ISIS has involved children in its propaganda. In the past few months leading up to the release of the Huroof app, ISIS has been releasing an increasing number of videos and pictures featuring children as young as toddlers engaging in combat training and violent activities, including beheadings. Some more positive propaganda paints a picture of a utopian community, featuring children eating ice cream and playing together. Children aren't just featured in the propaganda, they are forced to regularly consume it.
ISIS is notorious for its extensive propaganda and tech savvy so this isn't ISIS' first app, though it is the first to target children.
ISIS has another Android app used for distributing news wrapped in propaganda, including their standard fare of execution videos and soldiers on the battlefield committing acts of grave violence.
They are no stranger to recruiting unusual target audiences either. They have a whole propaganda department just for recruiting women into their group, so it's no surprise that they are targeting children as well. Other terrorist organizations use women as well, often as suicide bombers since they are less likely to be seen as suspicious. Children are even less likely to be seen as potential threats.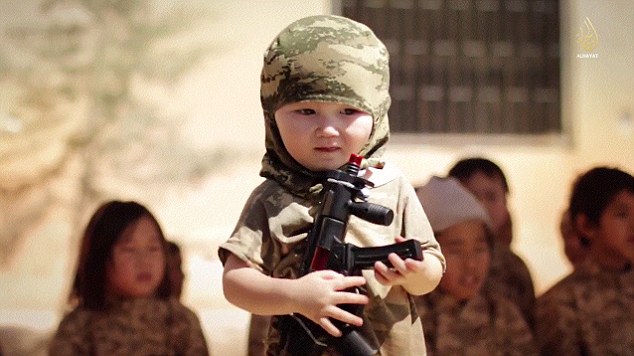 In addition to their many social media profiles and websites used to recruit new militants, they are using encrypted messaging platforms more and more often. Their platform of choice at the moment is Telegram, which, in the name of privacy rights, doesn't shut them down as often as Twitter or other apps. They have multiple channels on the mobile chat app Telegram which are used to spread their news, files, and videos, with redundant mechanisms in place to add users to new channels automatically if they do get shut down. 
As technology continues to evolve, so will ISIS and other dangerous groups. They aren't the first or only group to target children online. Hezbollah has several online games designed to indoctrinate children, as well as its own news app. As these children grow from being the caliphate's cubs into a new generation of lions, their convictions will only be stronger due to the early influence of this targeted propaganda, and their technology will be even more far reaching.