With President Hassan Rouhani's visit to Italy and France this January, Iran is finally emerging from years of international reclusiveness. However, this visit brought an interesting fact to the limelight – how do countries with different social traditions and customs extend hospitality to visiting foreign leaders whose own cultural ideals may be starkly different?
Social media users have used this opportunity to highlight the cultural different between the East and West, with cartoons such as these: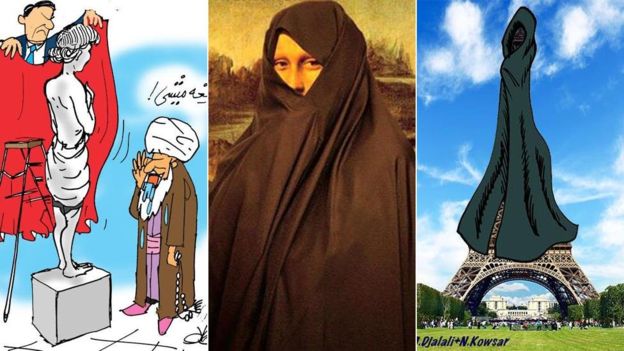 In the following cartoon, a Twitter used has captioned the picture explaining that the statue has 'been covered up to respect Hassan Rouhani: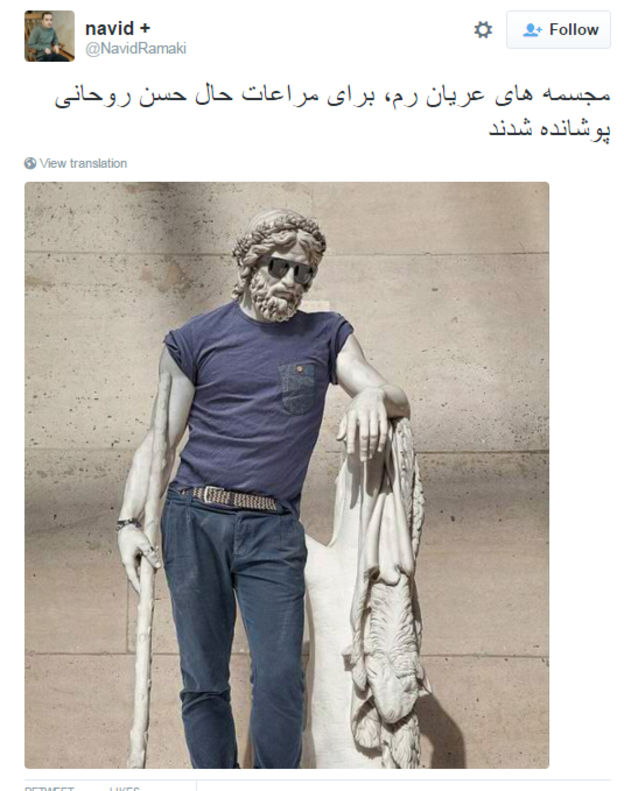 Talking about culture sharing by leaders who go on foreign visits, there is another interesting example of Kate Middleton, the Duchess of Cambridge, who decided to embrace Indian culture on her recent official visit to India in April 2016. She sent paparazzi into frenzy by wearing flowing cotton clothes with distinctly Indian designs and prints, one of the outfits even being designed by India-based designer Anita Dongre.
Similarly, the Crown Prince of Abu Dhabi, Mohammed bin Zayed Al Nahyan left no stone unturned to entertain Indian Prime Minister Narendra Modi during his visit to the UAE in August 2015. In order to ensure that the Indian PM would not miss his home country while on tour, the Crown Prince shipped star Indian cook Sanjeev Kapoor and his entire team to the UAE, to whip up an extravagant vegetarian menu for Modi's meals. This is a shining example of how one country can respect the cultural requirements of a foreign visiting dignitary.
However, the road to global cultural harmony may not always be so smooth. Recently, a British newspaper claimed that the Queen was recorded on camera as she said that she found Chinese officials to be 'very rude' to the British ambassador. This is in reference to President Xi Jinping's first state visit to Britain last year. Metropolitan police commander Lucy D'Orsi told the Queen that during the visit, Chinese officials "walked out" on both her and the British ambassador, and told her "that the trip was off". The police commander believed that this was very rude and undiplomatic. However, in several Asian countries, most supreme leaders such as the President or a monarch is considered to be an absolute power, often even being more important than security screenings required by police or other officials. What is seen as rude in one culture could merely be an aggressive assertion of one's political status and power in another country, even possibly normal for a leader of high stature.
Well, it goes without saying that regardless of one's own cultural beliefs, global leaders should make every effort possible to respect the traditions of each other, with ensuring that no deliberate attempts are made to cause offense. This would help a great deal in strengthening global harmony, especially by displaying awareness of every nation's uniqueness.
Image:Flickr