After the devastating attacks in Brussels, many are wondering why this has happened in Brussels.
The Molenbeek area of Brussels was a notorious hotbed of jihadist activity.
But Belgian politicians, procecutors, judges and police handled the threat too relaxed and unprofessional since years.
Now Belgium tries to dry the swamp of home-grown terror in Brussels
In a raid in Brussels Schaerbeek district police shot at a man, carrying a backpack, after he refused to obey to stop. Explosions were heard as well.
There have been several arrests before: two people on Tuesday, one on Wednesday, and six more on Thursday.
What we know so far:
31 people killed. 11 in the airport bombings, and 20 in the metro bombing.
Over 300 injured, with 61 in critical condition.
Three of the five suspects were suicide bombers. The last two suspects are still at large.
It was the so called Islamic State (IS, ISIS or Daesh)
More threats and still many IS members active in Europe.
Man charged: Belgian prosecutors have charged a freelance journalist, Faycal Cheffou, with terrorism related to the Brussels attacks.
Who was responsible?
Two brothers, Brahim el-Bakraoui and his brother Khalid were the main suicide bombers.
Brahim blew himself in the airport
Khalid (27) blew himself up in the metro.
Khalid used a fake name to rent an apartment in the Forest area, the same area where there was a shootout with police a week before the attacks.
Another airport suicide bomber was Najim Laachraoui, who was a wanted jihadist and a suspected accomplice of Salah Abdeslam.
One suspect still unknown: The second metro bomber is still at large.
The third man from the airport has been identified by Belgian media as Faycal Cheffou, the man in the hat and beige jacket.
These are the #BrusselsAttacks suspects @police_temoin want to know more about. https://t.co/nxvKgaqEfH pic.twitter.com/en2KKabn8V

— Christopher Miller (@ChristopherJM) March 23, 2016
#Bruselas Detenido el tercer terrorista del #aeropuerto: #FaycalCheffou https://t.co/AdofVK7Vl3 pic.twitter.com/9ijmGu1qKs

— Terra Perú (@terrape) March 26, 2016
The investigation
Taxi driver came forward and gave the address where the men were picked up
The driver reportedly refused to allow the men to bring more baggage, which were likely additional bombs.
At least one large nail bomb and TATP explosives were found at the address, along with an IS flag.
Are there more bombs to come?
A twitter user has said "Do not bring victims to Saint Pierre Hospital, there are more bombs in the chamber". This account has since been suspended. Experts have said that this account is linked to ISIS.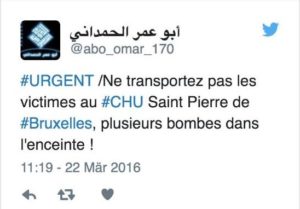 The user also made reference to bombs in Germany, saying that "You will see more bombs and more deaths! Soon in Germany too!" Sergei Markov, an adviser to Vladimir Putin, said in a Facebook post that the next terrorist attack will be in "most likely, alas, Berlin"
Arrests have already been made in France over another suspected plot that was in the advanced planning stages.
As many as 6000 European people have gone to support ISIS, says Professor Peter Neumann of Kings College, and the new wave of attacks is beginning.
President Obama has said from Havana, "we stand in solidarity with them in condemning these outrageous attacks against innocent people", and that "we can and we will defeat those who threaten the safety and security of people all around the world".
What does this mean for travelers?
Expect security at airports around the world to be heightened. The US has warned travelers to "be vigilant".
Our advice is to check-in online if possible, and do not loiter in the airport. Go immediately to the check-in desk and then directly to the security checkpoints.
Photo shows the exploded metro in Brussels where 20 people were killed.Twitter user @alxdm. Modified by Globalo.