Moscow's prime minister in waiting
The rumor mill has been in overdrive lately, with many sources believing that former finance minister Alexei Kudrin may be next in line to be either president or prime minister of Russia.
In June of 2015, Kudrin proposed early presidential elections and called for reform. Misinterpretations of his statements shortly after forced him to clarify that he had no intention of running for the presidency himself, though he seemed interested in returning to the federal government in some capacity.
While it remains a possibility that he could be prime minister someday, what we know for sure is that he has been appointed by President Vladimir Putin to head a think tank, The Center for Strategic Research. In this position, Kudrin will be tasked with creating a new agenda for reform before the 2018 presidential election. With this appointment, it is a signal that the Kremlin is willing to have a major change in policy going forward. Putin seems to be ready to usher in a new era, shifting toward Kudrin's fiscally conservative, pro-free market ideas.
Kudrin's Career Timeline
August 1996 – Appointed Deputy Chief of the presidential administration under Boris Yeltsin, and Chief of Administration on Trade, Economic, and Scientific-Technological Cooperation.

March 1997 – Becomes First Deputy Finance Minister.

May 2000 – Appointed Finance Minister under Vladimir Putin for 11 years (served until September 2011).

2000 – Served as one of the Deputy Prime Ministers in 2000-2004.

2007 – Served as one of the Deputy Prime Ministers in 2007-2011.
Major accomplishments as finance minister
During his 11 years as finance minister, Kudrin's legacy included a commitment to prudent fiscal policies and championing the free market, along with paying debts and developing a stabilization fund which helped carry Russia through the 2008-2009 global financial crisis. With Kudrin returning as a close advisor to the president, it shows that Putin is ready to adopt his economic ideas and policy positions, which are likely to be just as prudent as his past actions as finance minister.
Stabilization fund
Kudrin's idea for a Stabilization Fund was one of his major achievements during his time as finance minister. Extra income from oil exports was placed into the fund, and as a result of Kudrin's prudency, Russia came out of the 2008-2009 global financial crisis in much better shape than they would have otherwise.
Taxes and currency stability
The prime minister in 2005, Fradkov, proposed cutting VAT sales tax by 5% (from 18% to 13%). Kudrin fought him on this to protect the stability of the ruble, which if it came under threat would lead to the government tapping into the stabilization fund. If that had happened, the consequences would have been disastrous during the financial crisis.
Paid off debts
Russia accumulated a substantial amount of foreign debt in the 90's, most of which is now paid off thanks to Kudrin's ability to stubbornly prioritize fiscal responsibility over other ministers' agendas. In 2006, Russia paid $23.7 billion to its creditors in the Paris Club, giving Russia one of the lowest foreign debt levels of any major economy.
Resignation and criticisms of the Kremlin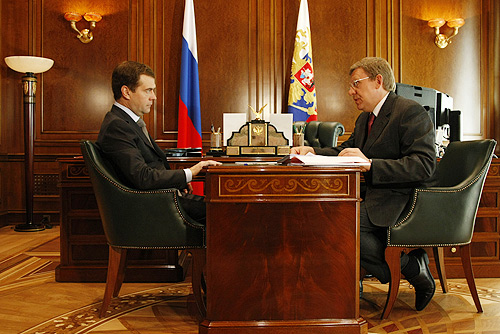 In the past, Kudrin has been critical of the Kremlin and called for reforms. Based on these criticisms, we can see what type of reforms he is likely to devise in the future.
In September of 2011, a dispute occurred after Kudrin made public statements about his disagreement with the then president Medvedev's economic policies, particularly regarding high military expenditure. Shortly after, Medvedev demanded Kudrin's resignation. In December of that year when it was revealed that the parliamentary elections were rigged, thousands were protesting in the streets and Kudrin made a speech in opposition of the government's actions. He has been openly critical of the 2014 Sochi Olympics which he sees as a waste, and also warned of the potential 200 billion dollar cost of annexing Crimea.
Currently, Kudrin is the dean of the Faculty of Liberal Arts and Sciences at St. Petersburg State University. But after his several years of "exile" from the Kremlin's inner circle, Kudrin is about to become a close advisor again now that he has been invited by Putin to head up The Center for Strategic Research think tank. This is a long-awaited return to government service for Kudrin despite his critical nature.
He clearly doesn't shy away from criticising the Kremlin's policies and actions, and this quality will serve him well as he crafts a pragmatic agenda which will serve as a roadmap to success for Putin's Russia of the future.
What are his positions?
Pessimism
Alexei Kudrin has said he believes Russia has not yet reached the peak of its economic problems, and that more potential challenges are to come. Rather than assuring investors, he addresses systemic issues head-on.
"State expenditures will go down, it's inevitable because there will be less revenue. Devaluation has not had its full effect on consumer prices, inflation next year will be some 1.5 percent points higher than the officially projected 6.4 percent…all these things can lead to high loan rates and perpetuation of risks in a whole number of industries, both in production and employment, profits, there is a risk of a new wave of debt non-payment," Kudrin said.
Privatisation
Kudrin believes the state should have less of a hand in economic matters. He believes state corporations should be privatised, and failing businesses should be allowed to fail instead of being subsidized.
Overhauling the economic model completely
Rather than small changes, Kudrin believes a major reform of the economic model is required if economic losses are to be stopped. The old model has, according to Kudrin, outlived its usefulness and a new one has not yet revealed itself in the government's current strategy. This reform is all the more urgent because, as Kudrin has said, real incomes in Russia are falling for the first time since the early 2000s, which didn't even happen in the 2008-2009 crisis. He projects that years of stagnation are ahead.
This critical situation of economic decline is caused by two main factors: falling oil prices not helped by the devaluation of the ruble, and the sanctions against Russia due to the situation in Crimea which Kudrin had warned against. In November, he said that "the sanctions have considerably complicated the situation in the country. The GDP is 1.5% lower that it would have been without them."
Alexei Kudrin: The Man Who Might Save The Russian Economy
Putin bringing Kudrin back into the fold at the highest levels would signal an acknowledgement of the economy's troubles. Given the current economic situation in Russia, the outdated economic policy must change or things will not get better. Rather than continuing in denial and letting things get worse, adopting Kudrin's brand of "pessimism" would be healthy since it's based on an objective economic analysis. Based on his policy positions and experience, Kudrin would be the prime candidate to overhaul economic policy and usher in a new era of pragmatism.