A confirmed new email leak from DCLeaks.com reveals Colin Powell's true thoughts about Hillary Clinton and Donald Trump.
Here's what he had to say about Trump:
Powell called Trump "a national disgrace and an international pariah," and a "disaster."
He also thinks Trump is a racist, citing the "birther" movement (his public claims that Obama wasn't born in America) as the reason. Powell says, "the whole birther movement was racist. That's what the 99% believe. When Trump couldn't keep that up he said he also wanted to see if the certificate noted that he was a Muslim. As I have said before, 'What if he was?' Muslims are born as Americans every day."
He also thinks there's no way Trump will ever get the black vote, saying, "He is at 1% black voters and will drop. He takes us for idiots. He can never overcome what he tried to do to Obama with his search for the birth certificate hoping to force Obama out of the Presidency."
Powell thinks that Trump "appeals to the worst angels of the GOP nature and poor white folks," and that the media is to blame for his rise. In December, he wrote to Fareed Zakaria of CNN that "It is time to start ignoring him. You guys are playing his game, you are his oxygen."
Here are his quotes on Clinton:
Colin Powell isn't Hillary's biggest fan. When asked when he might want to endorse her for president, Powell responded, "Hillary has not been covering here [sic] self with glory. For good reason she comes across as sleazy."
Hillary Clinton had recently dragged former Secretary of State Colin Powell into her email scandal. She accused him of advising her to use a personal email account for official work, over dinner. Powell claims Clinton is falsely blaming him.
On the email scandal he said:
"They are going to dick up the legitimate and necessary use of emails with friggin' record rules. I saw email more like a telephone than a cable machine. … Everything HRC touches she kind of screws up with hubris." Ouch.
"I have told Hilleary's [sic] minions repeatedly that they are making a mistake trying to drag me in, yet they still try…The media isn't fooled and she is getting crucified. The differences are profound and they know it."
 "HRC could have killed this two years ago by merely telling everyone honestly what she had done and not tie me to it."
---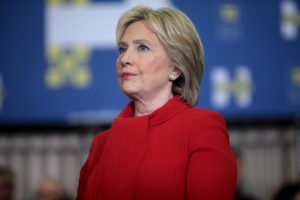 Why did Hillary Clinton blame Colin Powell for the email scandal?
Hillary Clinton was being asked to provide a satisfactory explanation about why she was using a private email server and a personal email address to communicate official affairs when she was Secretary of State. Even FBI Director James Comey expressed that this was "extremely careless" in handling classified information, which reflects very negatively on Mrs Clinton's integrity. However, during investigations, Clinton claimed that she was advised to do so by former Secretary of State Colin Powell, while they were having a chat over dinner.
Colin Powell cries foul
Colin Powell, on the other hand, shares that he did not give Clinton any such advice, and that he was being used as a scapegoat. He denied Clinton's claims completely, saying that he did not remember having such a conversation at all. About the situation, he said, "The truth is she was using it for a year before I sent her a memo telling her what I did," explaining that Clinton was using her personal email for official work, well before Powell shared what he did during his tenure as Secretary of State.
Lesson to be learned: When you try to blame Colin Powell for something he didn't do, it backfires!
Is Clinton pinning the blame of the email scandal on someone innocent?
Truth be told, it certainly seems like Mrs. Clinton was struggling to find any genuine reason to justify why she undermined the security of classified information. By claiming she was advised by Powell, it does not really provide an explanation for why she actually followed the poor advice. It seems like she wants to drag another political leader into the boiling soup she's already in, which is the only plausible reason she named Powell in the email scandal.
Whether Powell gave her the advice she claims or not: it's quite nasty of Clinton to both reveal the friendly advice that Powell allegedly gave her, as well as to go ahead and use her personal email for official communication.
Both ways, it isn't logical or morally right to blame someone else for a mistake she's clearly made herself.
In her competition against Trump, the most courageous act Hillary Clinton could do right now: own up to the political mistakes she's made. Blaming someone else is what cowards do.