A new report by the The Foreign Affairs Committee, which examines the intervention of Libya, says former Prime Minister David Cameron is "ultimately responsible" for the country's collapse and the rise of ISIS which followed.
---
The intervention in March of 2011 was led by the UK and France, and was an attempt to protect Libyan civilians from Muammar Gaddafi's forces that turned into an attempt to overthrow him. It didn't go as planned, to say the least. US President Barack Obama said that it was the worst mistake of his presidency, and said undiplomatically that the country has become a "s*** show."
The report's release happened just a day after Cameron's resignation as a Member of Parliament for Whitney in Oxfordshire. He had previously pledged to stay on, so the resignation is very sudden and it comes as a surprise that he's leaving Westminster immediately. Cameron had already resigned as PM after the EU referendum in June. He claims he doesn't want to be a "distraction" to the new PM Theresa May, and it's no wonder that he wants to stay out of the spotlight now.
Libya's political and economic collapse caused a refugee crisis, tribal warfare, human rights abuses, and led to the rise of ISIS in North Africa where it was possible for them to take Gaddafi's left behind guns.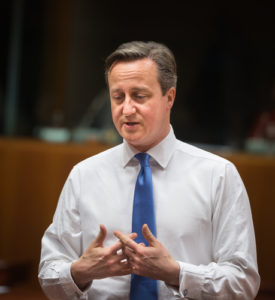 David Cameron is the man responsible according to the new report. The 2011 campaign lacked "accurate intelligence" and a "coherent strategy." The Committee's chairman Crispin Blunt said, "The UK's actions in Libya were part of an ill-conceived intervention, the results of which are still playing out today. Other political options were available. Political engagement might have delivered civilian protection, regime change and reform at a lesser cost to the UK and Libya."
The report says:
There was "no evidence that the UK Government carried out a proper analysis of the nature of the rebellion in Libya."

They could find no "defined strategic objective," which is why the intervention went from protecting civilians to overthrowing Gaddafi.

Other options were available, like choosing to use Tony Blair's contacts to negotiate a solution for Gaddafi's exit.

Since some Libyans had been part of the Iraq insurgency and fought alongside al-Qaeda in Afghanistan, the rise of ISIS "should not have been the preserve of hindsight."

Weapons left behind by the Gaddafi regime were allowed to fall into the hands of fledgling ISIS due to "insufficient action."
What can be done for Libya now?
Now, the UK and the whole international community need to get behind the UN-backed government of Libya, the Government of National Accord. It has been the interim government there since December of 2015, and it is the only thing standing in the way of total civil war. The Foreign and Commonwealth Office spokesman said, "After four decades of Gaddafi misrule, Libya undoubtedly faces huge challenges. The UK will continue to play a leading role within the international community to support the internationally recognised Libyan Government of National Accord. We have allocated £10 million this year to help the new Government to restore stability, rebuild the economy, defeat Daesh and tackle the criminal gangs that threaten the security of Libyans and exploit illegal migrants. HMS Enterprise and HMS Diamond are both currently deployed to support the EU naval operation to tackle illegal migration, people smuggling and arms trafficking."