Turkey's president, Recep Tayyip Erdoğan, has a history of making statements that alienate women.
The latest troublesome quotes from his speech on International Women's Day have sparked protests by portraying women only as mothers who belong in the home, rather than in the workforce.
He said, "a woman is above all else a mother," and that "you cannot free women by destroying the notion of family."
Apparently freeing women means keeping them in the home, as he also called for the audience to "protect the family" from the capitalist system which is "enslaving" women in pursuit of profit.
These statements led to thousands taking to the streets the same night in Istanbul and Ankara to call for equality. One protester said, "The policy of the AKP and the male hegemony that dominates our society is intended to keep women at the heart of the home and the family."
Turkish Women in the Workforce
In Turkey, women make up 47% of academics, 35% of engineers, 33% of lawyers, 30% of doctors, and 12% of CEOs (compared to 3% in the EU).

However, the number of women in the active labour force is the lowest of all OECD countries at 24%, and there is only one female minister in the Turkish Cabinet, the Minister of Family and Social Policy.
Erdoğan has received criticism in the past for similar statements also made during speeches to groups of women.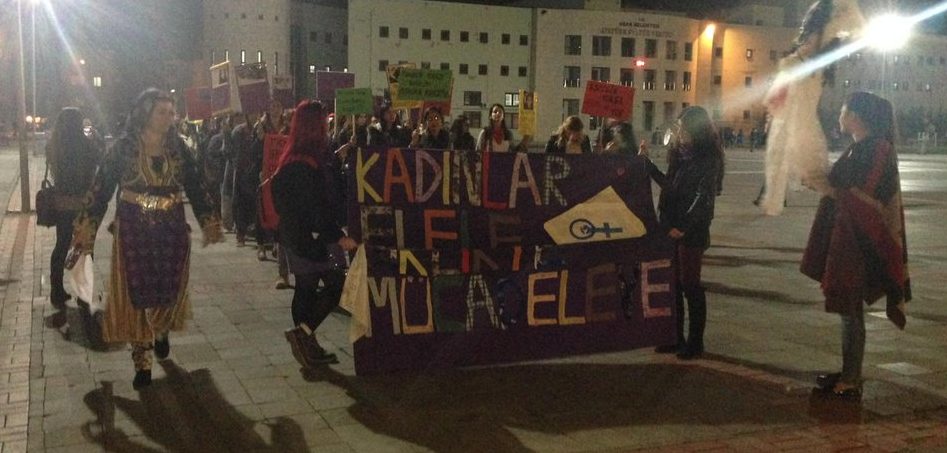 In 2014, at a summit organized by the Istanbul-based Women and Democracy Association, he made perhaps his most blatant statement against gender equality to date: "What women need is to be able to be equivalent, rather than equal."
He told the audience that women cannot be equal to men in the workplace because of their needs as mothers. According to Erdoğan, women should also be kept from manual labor, because "it is against her delicate nature."
"You cannot bring women and men into equal positions; that is against nature because their nature is different."
In response to these statements, eight women's rights groups created a joint statement condemning his views, which they believe are "an effort to take back rights which were attained by women nearly 100 years ago." The statement said, "We … believe that equality is not a bargaining chip but a democratic and universal right and that we will not give up on striving for equality."
Violence Against Women in Turkey
They also suggested that rejecting equality leads to increased violence against women, a major issue in Turkey which has risen sharply in recent years.
Domestic violence: According to NGOs, 300-400 women have been killed by their partners every year since 2006 in Turkey.

Child marriage: 30-35% of all marriages in Turkey involve underaged girls. In rural rural southeastern Turkey the number jumps to 75%.
Islam and Civil Liberties
Erdoğan claims his concept of "protecting the family," is rooted in Islam. At a summit on justice for women, Erdoğan said, "Our religion [Islam] has defined a position for women: motherhood. … Some people can understand this, while others can't. You cannot explain this to feminists because they don't accept the concept of motherhood." Since the Quran promotes the virtues of motherhood, he claims that it should be a woman's priority.
In response, an anchorwoman at the Turkish broadcasting station Kanal D, Sule Zeybek, said on live news that "I am a feminist and thank God I'm a mum."
Erdoğan routinely tries to impose his version of Islamic values on the country by threatening civil liberties. In the past he has:
Encouraged all Turkish women to have at least three children.

Claimed birth control is "treason".

Proposed limiting abortion rights, caesarean sections, and access to the morning-after pill.
Aylin Nazliaka, an MP from the opposition Republican People's party, said in a written statement, "Erdoğan has publicly committed a hate crime … But I will continue to fight this man who sees no difference between terrorists and feminists." She believes Erdoğan "ostracised" women by portraying them as weak and limiting their choice of role to motherhood.
Protecting the rights of Turkish women for the next generation should be an imperative.
Turkey currently ranks 130th of 145 countries in the World Economic Forum's Global Gender Gap Report, making it the lowest-ranking country in the European and Central region.