VIDEO: residents of #VillaRosa, #Venezuela, protested Maduro with pots & pans. (And it was beyond embarrassing.) pic.twitter.com/6Bqbs0kO1H

— Mariana_Atencio (@marianaatencio) September 3, 2016
What you see in the video above is an angry mob chasing the President of Venezuela Nicolas Maduro and his security detail while banging pots and pans. His security looks panicked. People are shouting curses at him. He is not in control of the situation.
The president's guard went around the town of Villa Rosa, confiscating cell phones and searching homes, to try to contain the video footage. But they failed. The video went viral, and within hours, all the people of Venezuela saw Maduro looking weaker than ever before.
Cacerolazo. That's the name for this situation, when ordinary people bang their pots and pans to call attention to injustice. They do it in the streets, or whole neighborhoods will open their windows and do it from their homes. It's a form of protest in certain Spanish-speaking countries which dates back to 1971 Chile. It is difficult to prevent, since most people have pans readily available. Once it starts, it's difficult to stop, because it is distributed.
This form of protest is especially effective since oppressive regimes like Maduro's rely on silence and isolation to repress people's views. Those who speak out are fired from state jobs. They also lose access to the rationing system, which most of the population relies on to survive. Even with rations, the people are barely surviving.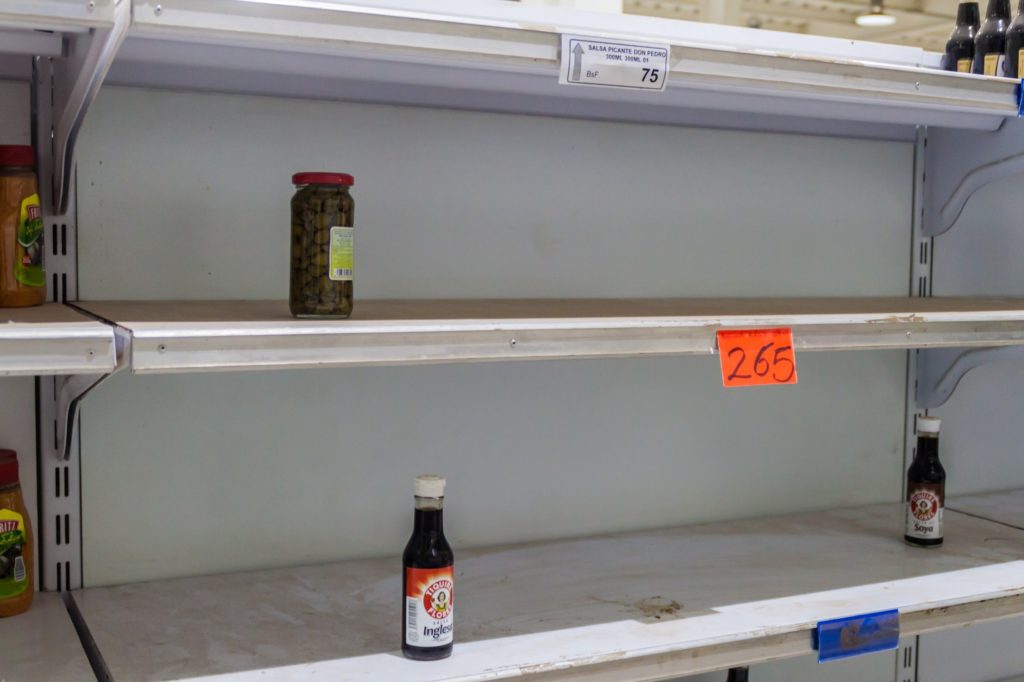 What caused the Venezuelan economy's problems?
Grocery store shelves are empty, pets are being abandoned and left to starve. There are food shortages, long lines, and inflation is out of hand. Despite all of this, humanitarian aid isn't allowed into Venezuela to help the crisis.
President Maduro has placed his economic bets on a Spanish professor called Alfredo Serrano Mancilla and his brand of Chávismo ideology. He calls him the "Jesus Christ of the Economy."
Mancilla arrived in Venezuela a decade ago and became friendly with the Marxist political in-crowd. He wrote a paper on the economic thought of Hugo Chávez in 2014, and he has been an advisor to Maduro ever since. He is now one of the most influential economic advisors in Maduro's cabinet. He writes important speeches for the president, which have been presented to the National Assembly. He coordinates the anti-capitalist leftist Center for Political and Social Studies (CEPS) which does political consulting, and has consulted for the Spanish, Ecuadorian, Bolivian, and El Salvadorian governments.
In Venezuela, hunger, food shortages force many to abandon their pets. Photofeature: https://t.co/NDDsoKzTEy pic.twitter.com/21mT5qFrhu

— Nigel Britto (@NigelBritto) September 8, 2016
An opposition leader and professor Antonio Ecarri says it's the continuation of the former President Hugo Chávez's policies that caused hunger and poverty in Venezuela, "For us, the imposition of an economic model that destroyed national production through expropriations and made us dependent on the state, which had only one source to finance itself – oil – has condemned us to what we are living today."
The radical policies like the seizure of businesses, "urban agriculture" on residential balconies, forced employment, and the soviet-style ration supply system, are all a result of Chavistas, particularly the direct influence of Alfredo Serrano Mancilla on Chávez's successor President Maduro.
Venezuela is still waiting for a miracle from Mancilla, Maduro's supposed savior of the economy. Maduro is still in denial that Mancilla's socialist model and the radical measures of the government have impoverished Venezuela. The failures are simply blamed on attacks by the opposition and an "economic war" by the United States. Maduro's faith in this economic model can't be shaken, and the people want him gone for it.
The Mob Can Get Rid of Maduro
In a recent poll, only 15% supported Maduro's government strongly.
In October, there will be a signature gathering drive to trigger a recall vote.

There needs to be 3.9 million signatures.

If millions show up to sign, there could be a referendum by the end of the year.

If the government refuses to hold a referendum, it could lead to widespread civil unrest.

The timing of a snap election will be important. If it doesn't happen by January 10th, an election won't be triggered, and Maduro's vice president will just finish his term for him.
It's in the government's best interest to delay as long as possible, so it's up to the people to keep pressuring him and banging their pots and pans in protest.