According to North Korean State media, KCNA, one of the country's military units tasked with striking US bases in Japan was involved in the launch of four ballistic missiles. North Korean leader Kim Jong Un was on hand to supervise the missile launch and was said to be pleased with the proceedings.
Past sanctions, cajoling and military pressure have failed to affect Kim.
This is the latest repeated breach of the UNSC resolutions, which North Korea are clearly ignoring.
Stakes are getting higher and higher for Trump as North Korea showing greater capability of a long-range threat.
US military confirmed it has begun assembling anti-missile defense system.
North Korean leader Kim Jong Un issued a stark warning to the U.S. and South Korea, promising to unleash a "nuclear-tipped missile" to "demolish" any country that attacks the secretive kingdom.
#THAAD deploys to the Korean Peninsula; this purely defensive system honors our alliance commitments to the #ROK. https://t.co/I4bPDh9wRt pic.twitter.com/apqqQkv6Ch

— U.S. Pacific Command (@PacificCommand) March 7, 2017
The increased provocation could be a sign that Pyongyang wish to negotiate and force Trump to the table with concessions. "They decided to lay low doesn't make sense, and that being on good behavior isn't going to make any difference to the United States," said John Delury, an associate professor of Chinese studies at Yonsei University in Seoul.
"I do think they want a negotiation," he said. "They can read the reports. They know there is a North Korean policy review going on in Washington. This is a way to have an input into the discussion."
Three of these missiles landed within 200 miles of Japan's coastline and were fired as part of a drill by North Korea's Hwasong artillery units, KCNA said. The report said the units were part of "the KPA Strategic Force tasked to strike the bases of the US imperialist aggressor forces in Japan in contingency."
There are approximately 54,000 troops stationed in Japan, including Misawa Air Base in the far north to Okinawa on the country's southernmost islands at a cost of $5.5 billion in 2016.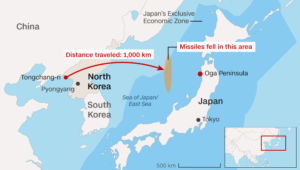 World reaction
Trump and other world leaders were quick to condemn the actions by the hermit state.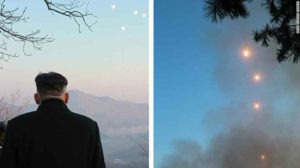 White House press secretary Sean Spicer said, "The launches are consistent with North Korea's long history of provocative behaviour. The United States stands with our allies in the face of this very serious threat. The Trump administration is taking steps to enhance our ability to defend against North Korea's ballistic missiles, such as through the deployment of a THAAD battery to South Korea."
Japanese Prime Minister Shinzo Abe said he had spoken to Trump and agreed that the missile launches were "a clear violation of UN Security Council resolutions" and a threat to the international community.
Trump also spoke with the acting South Korean President Hwang Kyo-ahn to discuss North Korea's missile test.
The UN Security Council
Secretary-General António Guterres condemned the missile launch and said, "Such actions violate Security Council resolutions and seriously undermine regional peace and stability."
Military authorities in South Korea, Japan and the United States confirmed the launch of four projectiles, which travelled almost 1,000 kilometres (620 miles) – and a fifth one that failed. US officials said they were extended range SCUD missiles.
This is not the first time that North Korea has launched long-range ballistic missiles, the most recent example infringing Japan's 'Air Defence Identification Zone' was in 2016, provoking a strong response.
Missile defence system & China
"If the United States or South Korea fires even a single flame inside North Korean territory, we will demolish the origin of the invasion and provocation with a nuclear tipped missile," a KCNA statement said.
Considering this Hwang Kyo Ahn, South Korea's acting president, urged the U.S. to deploy its controversial missile defence system known as THAAD (Terminal High Altitude Area Defense), as soon as possible.
However, China have since warned of "consequences" for the US and South Korea over such a deployment, raising regional tensions further and presenting another problem for the Trump administration. These consequences could take form in penalties levied against South Korean companies doing business in China.
China sees the system as a threat to the Chinese military and an example of the US "meddling" in regional affairs. "I want to emphasise that we firmly oppose the deployment of THAAD," said Geng Shuang, a spokesman for China's Foreign Ministry, at a daily press briefing in Beijing on Tuesday. "We will resolutely take necessary measures to defend our security interests. All consequences entailed from this will be borne by the U.S. and the Republic of Korea".
Watch the deployment of THAAD here: