President Barack Obama presented the Medal of Honor to Senior Chief Special Warfare Operator Edward Byers, U.S. Navy.
Senior Chief Byers received the Medal of Honor for his courageous actions while serving as part of a team that rescued an American civilian being held hostage in Afghanistan on December 8-9, 2012. "Anyone who's been in combat knows that in those moments, you either react or you get killed," Byers said.
President Obama, who gave Byers the medal in a ceremony at the White House, called him a "consummate, quiet professional" who shunned the spotlight.
Byers said nothing, standing rigidly beside the President.
Senior Chief Byers will be the eleventh living service member to be awarded the Medal of Honor for actions in Afghanistan. He and his family joined the President at the White House to commemorate his example of selfless service.
Senior Chief Byers was born in Toledo, Ohio on August 4, 1979. He graduated from Otesgo High School in Tontogany, Ohio in June 1997. He currently holds a National Paramedics License, and will graduate from Norwich University with a Bachelor of Science in Strategic Studies and Defense Analysis in early 2016.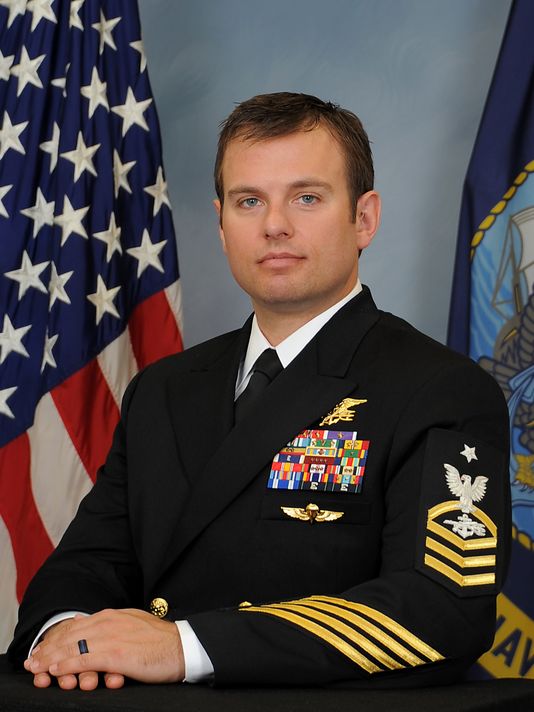 Senior Chief Byers entered the Navy in September 1998, attending boot camp and Hospital Corpsman School at Great Lakes, Illinois. He served at Great Lakes Naval Hospital, and then with 2nd Battalion, 2nd Marine Regiment at Camp Lejeune, North Carolina. In 2002, he attended the Basic Underwater Demolition/SEAL course, graduating from Class 242, and completed the Special Operations Combat Medic course in 2003. Senior Chief Byers has been assigned to various east coast SEAL teams, and completed eight overseas deployments with seven combat tours.
Senior Chief Byers' awards and decorations include five awards of the Bronze Star Medal with Combat V device, two awards of the Purple Heart, the Joint Service Commendation Medal with Valor device, the Navy and Marine Corps Commendation Medal with Combat V device, two additional awards of the Navy and Marine Corps Commendation Medal, two awards of the Combat Action Ribbon, three Presidential Unit Citations, two Joint Meritorious Unit Awards, two Navy Unit Commendations, and five Good Conduct Medals.
THE MEDAL OF HONOR:
The Medal of Honor is awarded to members of the Armed Forces who distinguish themselves conspicuously by gallantry and intrepidity at the risk of their own lives above and beyond the call of duty while: engaged in an action against an enemy of the United States; engaged in military operations involving conflict with an opposing foreign force; or serving with friendly foreign forces engaged in an armed conflict against an opposing armed force in which the United States is not a belligerent party.
There must be no margin of doubt or possibility of error in awarding this honor. To justify this decoration, the deed performed must have been one of personal bravery and self-sacrifice so conspicuous as to clearly distinguish the individual above his or her comrades, and must have involved risk of life. It must also be the type of deed which if not done would not subject the individual to any justified criticism.