How did the  story behind the Mauermuseum – Museum at Checkpoint Charlie start during the cold war in Berlin and a communist dictatorship in the east, which only collapsed in November 1989?
There is a Chinese proverb which says that every journey begins with a small step. If you do not know how to start making this world a better place, it is important to take the first step.
There are a plethora of ways to improve our world. The Mauermuseum – Museum Haus am Checkpoint Charlie, also known as The Berlin Wall Museum, started some 50 years ago in a 2.5 room flat.
On October 19th 1962, my father, Dr. Rainer Hildebrandt (photo) founded the Mauermuseum – Museum Haus am Checkpoint Charlie, yet his journey to becoming a political activist started long before.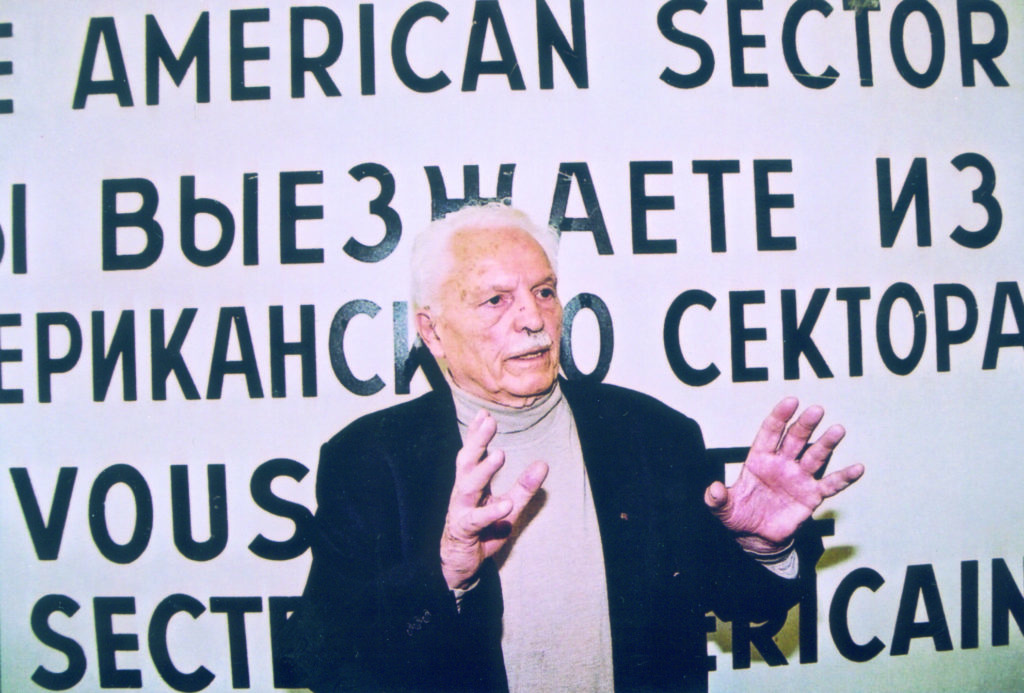 In fact, Rainer Hildebrandt's journey started on December 14th 1914. Born shortly before the outbreak of the First World War, Hilderbrandt's first experiences were of life during wartime. When the Nazis, centred around Adolf Hitler, took power in 1933 the young Rainer Hildebrandt was only 19 years old. He belonged to a group which was active in the resistance against Hitler, and as a consequence he was detained for 17 months. Luckily he survived, but his mentor and friend Albrecht Haushofer, as well as their other companions such as Horst Heilmann or Paul Meller, were killed by the Nazis. By the time the victorious powers had decided on the fate of post-war Germany, young Rainer Hildebrandt had already witnessed some of Germany's darkest chapters in history.
In 1948 Hildebrandt and his associates founded the Protest Group Against Inhumanity. They ardently spoke up against the cruelties of the Soviets in post-war Germany. Their main objective was to build a search service for those who were abducted to the Soviet Occupation Zone after the Second World War. A database with about 900,000 names was compiled and given to the German Red Cross. One of the names was Raoul Wallenburg, a Swedish diplomat who saved some 100,000 Jews and who himself was abducted by the Soviets. Wallenburg's parents visited Dr. Hildebrandt to ask for his help in the search of their son, and today, as part of the Raoul Wallenberg exhibition, visitors can search for their relatives in the displayed database.
Never back down.
The dramatic developments which followed the Second World War sparked generations of ambitious political activists. As a direct reaction to the Berlin Wall being erected, Hildebrandt founded the Working Group August 13th, which is also known as the Mauermuseum – Museum Haus am Checkpoint Charlie. He believed that it was vital in the non-violent struggle for human rights to be as close as possible to the injustice itself – in this case Checkpoint Charlie, the most prominent border crossing. Over decades Rainer Hildebrandt drew the world's attention to the shameful wall. During Willy Brandt's "Ostpolitik", Hildebrandt emerged as a thorn in the flesh of Germany's political elite. He never applied a conciliatory approach with the dictatorship behind the Iron Curtain, he never traded freedom and democracy for stability based on common interests and he never gave in. Instead he did the opposite. To the surprise of many, Hildebrandt was able to expand the exhibition and his workload. It wasn't easy – attempts were undertaken to discredit him and he quickly became a kidnapping target, but once again he was lucky. Others were less lucky; many were kidnapped or killed. Dr. Hildebrandt kept a stiff upper lip and expanded the once 2.5 room exhibition to over 2500m2 of exhibition space today.
Find like-minded people and build connections.
Checkpoint Charlie is a symbol for the Allied commitment to the freedom of Berlin. When people mention their visit to Red Square, everyone knows that they are talking about Moscow. When people talk about Tiananmen Square, everyone knows they are referring to Beijing. If someone says "I was at Checkpoint Charlie" it means they were in Berlin. Often we forget about the Allies and their commitment. For some four decades the Allied servicepeople were unable to spend time with their families in their home countries because they were defending the liberty of Berlin. As part of Hildebrandt's trips to the US, where he studied American civil liberties and gave lectures, he made friends and built connections. It wasn't only the Western Allies with whom he shared common ground. He had friends from all over the world, including friends from the Soviet Union as, just after the Second World War, Dr. Hildebrandt supported the opposition in Russia. He drew attention to the western world that not all Russians were responsible for Stalin's crimes.
Don't rest on your laurels – look forward, there is a lot to do.
The Mauermuseum – Museum Haus am Checkpoint Charlie is a vivid testimony to that which must never disappear from the world's political and cultural landscape. Just as during the busy days of post-war Germany where politicians, journalists, escapees and escape helpers came in and out, drafting up plans to help those in need, Mauermuseum – Museum Haus am Checkpoint Charlie supports people today who are yearning for rules of tolerance, freedom and democracy. According to Freedom House, 60% of the world is either not free or only partly free; Russia, North Korea and Cuba… these are to name but a few.
What does that mean for you and me?
– The Mauermuseum is a hub for people who want to change the world. Its exhibition space, the Museum offers the integrated International Education and Conference Center for Liberty and Democracy Checkpoint Charlie, which was inaugurated in 2010.
Every seminar room is equipped with the Universal Declaration of Human Rights, which was adopted by the United Nations General Assembly on December 10th 1948, and complemented by pictures of people who have ardently spoken up for human rights.
Here they can a) learn from history, and b) shoulder responsibility.
A student from California wrote: "Dear Mr Hildebrandt, I've just spent ten hours in your museum. I think I read every single word in the entire exhibition. This place is amazing and it makes me want to be a human rights activist. I already knew I wanted to change the world, but I didn't know how best to go about doing it. Now I know. Thank you so much, from the bottom of my heart."
The outlook is clear: 'we' – you and me – can change the world. The Mauermuseum will proceed to support universal values and will remain vigilant in drawing attention to the injustices in the world. Join us!