Numerous websites have been reporting that John Kerry hid a close family connection to an Iranian official that he negotiated with over the infamous nuclear deal struck under President Obama.
Is what they report true? Should Kerry have recused himself from the negotiating table? Or is there a false narrative underpinning it all…
The claims:
Most of the meat of the story comes down to John Kerry's daughter, who she married, and who his now son-in-law was connected to in Iran. It is then asserted that Kerry hid this Iranian connection unlawfuly.
??
PHOTO: They Just Discovered Who Was At John Kerry's Daughter's Wedding… It Will Give You Chills http://t.co/rdxJHao1MT

— All American Girl (@AIIAmericanGirI) July 29, 2015
@foxnation Although this came out (quietly) last year, John Kerry's son-in-law is an Iranian, with family in Teheran, a conflict of interest

— Dick Nelson (@RJLNelson) July 29, 2015
Who was best man at John Kerry's daughter's wedding ??…The Iranian's son who he was making a nuclear deal with..and no one brings it up

— anthony zumpano (@tonyzump) July 29, 2015
It is true, John Kerry's daughter did marry an Iranian, but only of descent; he was born and raised in America. Dr. Vanessa Bradford Kerry married Dr. Brian Vala Nahed in 2009. The couple met as resident doctors at Massachusetts General Hospital in Boston. Nahed was born in New York.
According to a New York Times announcement, the bridegroom graduated magna cum laude from the University of California, Los Angeles, and received his medical degree cum laude from Yale. His father, a pulmonologist and sleep medicine and critical-care physician, is the chief of staff at Holy Cross Hospital in Mission Hills, Calif. He also runs a private practice there, which is managed by the bridegroom's mother.
Who is the Iranian in question?
Mohammad Javad Zarif, the Iranian foreign minister, and one of the principal negotiators in nuclear talks with the U.S. The stories allege that Zarif was the best man at Kerry's wedding, but there is no proof that this is true. The rumour started on Allen B. West's – a former one-term congressman and conservative pundit – website in July 2015:
"Secretary Kerry and Zarif first met over a decade ago at a dinner party hosted by George Soros at his Manhattan penthouse. What a surprise. I have to say, connecting the dots gets more and more frightening. 
But it gets even worse. Guess who was the best man at the 2009 wedding between Kerry's daughter Vanessa and Behrouz Vala Nahed? Javad Zarif's son."
An Iranian news agency called the report a "news fabrication" and said Zarif's son wasn't at the wedding. According to the report:
"Officials at the Iranian Foreign Ministry on Sunday strongly rejected some US media reports alleging that Foreign Minister Mohammad Javad Zarif's son had attended the wedding ceremony of Vanessa Kerry, the daughter of US Secretary of State John Kerry.
The foreign ministry's denial came after several American websites claimed in the last few days that Zarif's son, Mehdi Zarif, had not only attended the wedding party of Dr. Vanessa Bradford Kerry and her Iranian American husband doctor Brian Vala Nahed, but also been Vala Nahed's best man. 
The report seems to have appeared on the US media not to hurt the Iranian foreign minister, but to damage Kerry's credit and reputation as the Republicans and the Israeli lobbies have started massive propaganda to torpedo a recent nuclear deal struck between the six world powers and Iran. Only the powerful Israeli lobby group, AIPAC, has declared a 20 million dollar fund for the purpose. And the Vanessa-Brian story only seems to be the beginning."
The conclusion:
Not only is Brian Nahed not Iranian, he wasn't born in Iran, has never held Iranian citizenship, and has never even been to Iran. He is a natural-born US citizen who has lived, attended school, and worked in the US his whole life.
Furthermore, he is not close friends with either Iranian foreign minister Javad Zarif or Zarif's son: he doesn't know either of them, and Zarif's son was not the best man at his wedding (nor, as some accounts report, was Zarif's son his college roommate). Vanessa Kerry herself verified that Zarif's son was not at her wedding:
Persian Shrug http://t.co/BtnKMzXM27 via @po_st Happy 2 verify. No wedding party when we married. No Zarif's son. Sorry 2 disappoint.

— Vanessa Kerry (@VBKerry) August 2, 2015
The only bit of truth to the story is that Naded's parents were indeed born in Iran, but they in face permanently left the country to immigrate to the US forty years ago.
Photos touted of the event as proof do not even contain Zarif!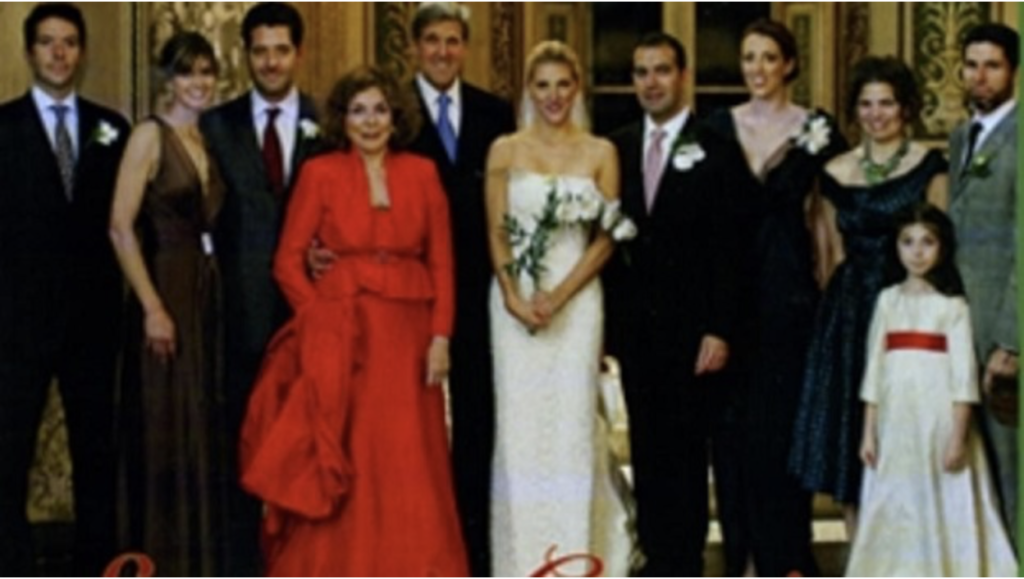 It is true, however, that Kerry has a personal relationship with Zarif that predates the nuclear talks. The diplomats' relationship was reported in a 2012 book by author Hooman Majd.