Donald Trump wins masses of Americans with his views on immigration policy. When on stage he voices his ideas of building up a wall between Mexico and the United states of America and some people would love him for that. A prohibition for Muslims to immigrate to his beloved country? That'll be on his agenda if he'd become the leader of the free world.
---
Donald Trump's grandfather was from Germany

Came from Kallstadt, a town famous for wine.

Trump's grandparents moved to New York

It's ironic that Donald Trump as we know him wouldn't exist if a US president would have had the same opinions on immigration back in these days.
Donald Trump's grandfather was Fred Trump, born Friedrich Drumpf, in Kallstadt, Germany, in 1869. Trump enjoys bragging about his genetics. https://t.co/d6KHw8WUXv

— Ryan Golden (@jryangolden) 4. Oktober 2016

It was 1885 when Frederick Trump and Elisabeth Christ decided that they had other plans for their future rather than becoming winegrowers.
They exchanged little town romance for big city life and moved from Kallstadt in Germany to New York City. Kallstadt lies on the German Wine Route near Bad Dürkheim district in Rhineland-Palatinate, Germany, and is now part of Freinsheim.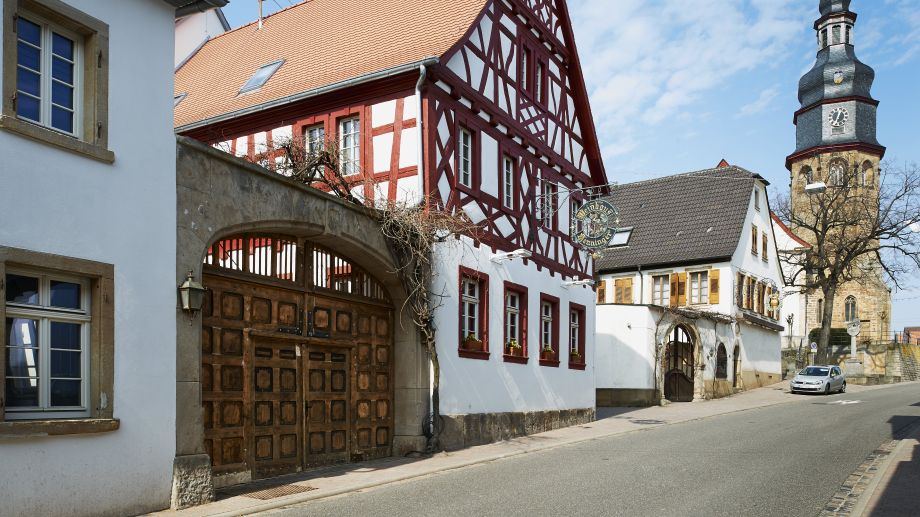 In the middle of beautiful landscape amid endless vineyards and cozy villages two famous American families were born here. If you ask the people in Kallstadt they identify with Ketchup a lot more than with the Trump family.
Another famous family has its roots here: Johann Heinrich Heinz, father of American food industry entrepreneur Henry J. Heinz, the founder of the H. J. Heinz Company.




The municipality's arms might in English heraldic language be described thus: Per fess embattled, azure an eagle displayed argent armed and langue gules, and Or masoned an orb of the third banded of the field and ensign with a cross fleuretty of the third, this last between two arrow slits of the first.
At the end of the 19th century many Germans immigrated to the United States to start their lives overseas.
Frederick Trump started a career as a hairdresser before he build a hotel in the Pacific Northwest. Some sources even claim that he was a drug dealer and worked in the redlight district. However, he smartly invested his money in Manhattan property, the land where the big Trump buildings rise into the New York sky now.
Shortly after Frederick and Elisabeth moved to the United States, Frederick died and Elisabeth founded "E. Trump & Son" in order to make a living for her and her sons. The company provided the basis for today's Trump empire.
This film explores the roots of the Trump and Heinz families from the … https://t.co/gDIKPPZpuq

— Dennis D. McDonald (@ddmcd) 27. September 2016
Until 1990, Donald Trump denied his German roots and branded himself a Swedish man. He didn't even mention his origin in his 1987 published biography "Trump: The Art of the Deal". In a documentary "King of New York" a daughter of the town Kallstadt portrays Trump and his family story back in the German village. It's where Trump says "I love Kallstadt". In other interviews he claimed he'd be proud of his German roots, but no one has seen him in the hometown of his grandparents yet.
So if Donald Trump – or as the German name would be called Drumpf – becomes president and closes the borders for ambitious and eager people he might deny immigration to the parents of the future president.