At the Democratic National Convention in Philadelphia, Khizr Khan, the father of a fallen U.S. Army war hero took to the stage, with his wife by his side, to blast Donald Trump.
Khizr Khan waved a copy of the U.S. Constitution and demanded that Republican nominee Donald Trump honor the sacrifice of his son, who was a Muslim.
Khan has moved to America in the 1970s for "freedom and opportunity" because his native Pakistan was under military rule.
Trump's call for banning all Muslims from immigrating to the United States is absurd, particularly in light of incredible sacrifices like the one made by Khan's son.
His son, U.S. Army Capt. Humayun S.M. Khan (picture), was killed in action while serving in Iraq.
Khizr Khan's wife Ghazala, who was with him on stage, was made fun of by Donald Trump days after the event. He made a rude comment saying, "If you look at his wife, she was standing there…She had nothing to say… Maybe she wasn't allowed to have anything to say. You tell me."
Khizr Khan responded to Trump's comment on his wife saying that he has a "black soul."
Ghazala Khan responded to Trump by saying, "Walking on to the convention stage, with a huge picture of my son behind me, I could hardly control myself. What mother could? Donald Trump has children whom he loves. Does he really need to wonder why I did not speak?" She also said Trump, "doesn't know what the word sacrifice means."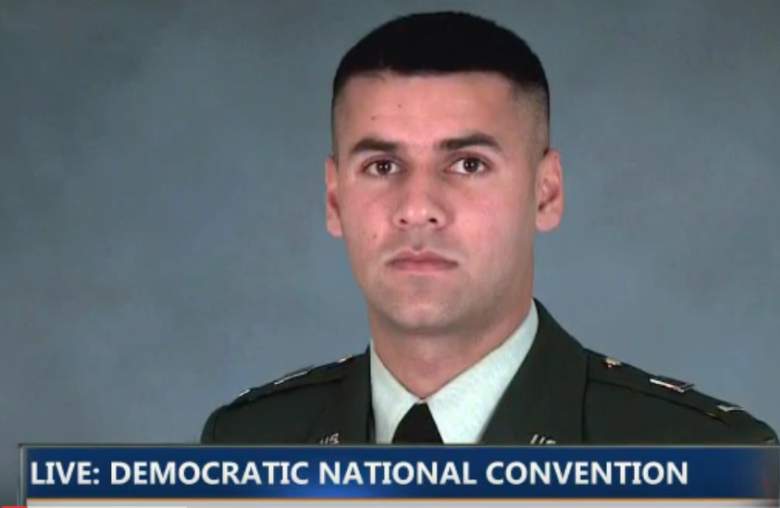 Cap. Khan saved his unit by telling them to hold back as he walked toward a suspicious vehicle, and when the vehicle advanced toward him loaded with hundreds of pounds of explosives he was killed. Captain Khan was born in the UAE, and died at age 27.
Khizr Khan, dad of slain Muslim U.S. soldier, to Trump: 'You have have sacrificed nothing' https://t.co/AEKcuuOTAepic.twitter.com/kkIHilsWqI

— USA TODAY (@USATODAY) July 29, 2016
Here are the key quotes from Khan's moving speech:
"Hillary Clinton was right when she called my son the best of America. If it was up to Donald Trump, he never would have been in America,"

"Donald Trump consistently smears the character of Muslims. He disrespects other minorities, women, judges, and even his own party leadership. Donald Trump loves to build walls and ban us from this country."

To Donald Trump directly he said, "Let me ask you, have you even read the U.S. Constitution? I will gladly lend you my copy. Look for the words 'liberty' and 'equal protection of law.' Have you ever been to Arlington National Cemetery? Go look at the graves of the brave patriots who died defending this country."

"You have sacrificed nothing. We cannot solve our problems by building walls. We are stronger together. We will keep getting stronger when Hillary Clinton becomes our president."
Read here