To prepare more air-strikes after the ISIS terror-attacks, the French government sent its strongest conventional weapon, the aircraft carrier Charles de Gaulle, to the Eastern part of the Mediterranean sea, close to Syria.
The Charles de Gaulle is the flagship of the French Navy (Marine Nationale) and the largest western European warship currently in commission.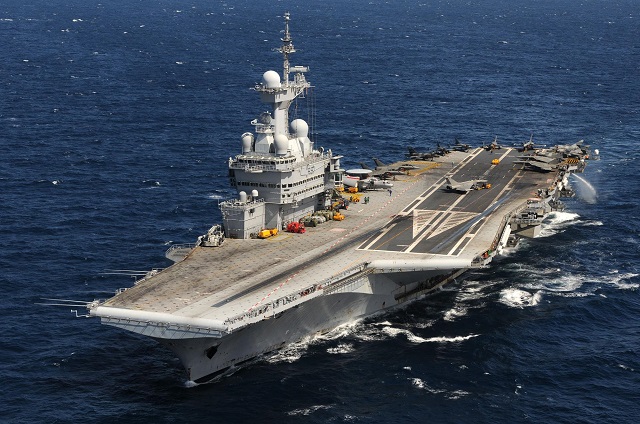 She is the only nuclear-powered carrier completed outside of the United States Navy.
The ship is named after French statesman and general Charles de Gaulle.
She carries a complement of 26 jets Dassault-Breguet Super Étendard, Dassault Rafale M and E‑2C Hawkeye aircraft, EC725 Caracal and AS532 Cougar helicopter for combat search and rescue, as well as modern electronics and Aster missiles.
The French air-force has stationed 12 jets on bases in Jordan and the United Arab Emirates to attack ISIS.
French president François Hollande has pledged to intensify his country's airstrikes against the terror group.
He told an exceptional assembly of both houses of parliament at the Palace of Versailles: "France is at war … But we are not engaged in a war of civilizations, because these assassins do not represent any civilization."
A day after French jets pounded ISIS targets in the terror group's Syrian stronghold of Raqqa, Hollande said the aerial campaign would be stepped up, announcing a tripling of France's strike capacity in the region with the departure of the aircraft carrier Charles de Gaulle for the eastern Mediterranean.
He also said in the coming weeks he would be meeting the US and Russian presidents, Barack Obama and Vladimir Putin, in an effort to build "a union of all who can fight this terrorist army in a single coalition".
US Secretary of State John Kerry, who arrived in Paris for talks with President Hollande, said the US stood "shoulder to shoulder" with France. He described Islamic State (IS) militants as "psychopathic monsters."
The United States provide France with information to help them strike Islamic State targets, known as "strike packages."