It has emerged that the EU could effectively prevent the flow of money to the Islamic State, but little has happened so far.
The fight against terror is seemingly only a half-hearted one by those controlling the financial markets within the European Union.
Assad has not stopped IS from using Syria's banks, and has reportedly even furthered it's own business interests with them through the purchases of oil.
SWIFT transactions still possible out of banks in IS-held areas
EU leaders agree action should be taken, this is common sense
It has still taken years for the cumbersome EU to make any changes
98 percent of cash flow for terrorists and criminals still undetected
Experts agree that from a technical standpoint, there should be no problem in blocking cash flow and there is also a legal basis by which the EU governments could decide to "isolate banks in IS-occupied areas from payment transactions with banks outside these areas", according to a Spiegel report.
It is important that the "cash flows of the terrorists are stopped" said Merkel, two days after the November 2015 attacks in Paris that killed 130 people and injured hundreds more. But still today, the branch of the Commercial Bank of Syria in Rakka, the IS stronghold, is still active and able to send money to and through Europe via SWIFT.
In Iraq alone, approximately ninety viable branches continue to operate in contested areas of Ninawa, Salah al-Din, Anbar, and Kirkuk provinces.
What is SWIFT?
It stands for the 'Society for Worldwide Interbank Financial Telecommunications'. It is a global communication network that facilitates 24-hour secure international exchange of payment instructions between banks, central banks, multinational corporations, and major securities firms.
It is absurd and shocking that this is still possible.
How could this be?
The Commercial Bank of Syria is on the EU sanctions list, and has been since 2011, but due to the financial support of Bashar al-Assad, the extend to which IS uses the branch office in Raqqa for transactions remains unknown. SWIFT are yet to comment on this.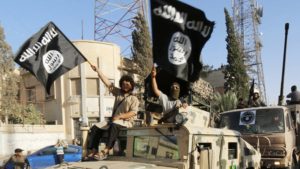 According to experts, it may be difficult to pinpoint banks' usage of SWIFT to specific IS-held area. EU countries would have to decide unanimously under the Common Foreign and Security Policy that the isolation of banks would only take place if there were no 'milder' means by which to take action.
To further complicate things, SWIFT is a private co-operative based in La Hulpe, Belgium and accounts for more than 11,000 banks and financial institutions and calls itself politically neutral. Taking action could set a precedent they would rather avoid.
Iran
It should be noted, that there is already a precedent for this. In March 2012, SWIFT suspended its communications for Iranian banks, after they were subject to EU sanctions. After the sanctions were lifted in early 2016, the banks were able to log back into the SWIFT network.
SWIFT itself does not generate cash flow, banks and other financial institutions need to carry out transactions amongst themselves. A cross-border payment transaction is virtually impossible without SWIFT so the banks within IS strongholds would be hit hard.
Tightening rules
The EU Commission announced this month that the fight against terrorist financing should be ramped up. EU-wide rules made cracking down on money laundering possible and has helped stop the funding sources of some extremist organizations.
They are calling for measures whereby authorities can further scrutinize any cash leaving or entering member states, even in the case of amounts below the no-registration limit of €10,000. Additionally, money sent via international mail or freight shipments are also to be examined.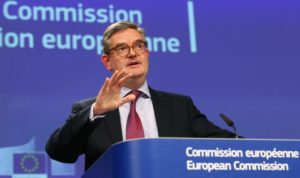 However, the EU states and the European parliament are yet to approve these proposals – this is expected to take place in the first half of 2017, but critics argue that is should have been instated much sooner.
Currently, lawmakers are "having a lot of trouble", said Julian King, EU Commissioner for Security Affairs.
An estimated 98 percent of the profits of criminals and terrorists have not been confiscated. This is unacceptable.