They got the most wanted ISIS (IS or Daesh) terrorist in Germany, who planned to bomb one of the Berlin airports (Tegel or Schönefeld), like done in Brussels this March with 31 dead and 300 injured. It was like a Bruce Willis action movie:
At night in the city of Leipzig, around 100 kilometer west of Chemnitz, three refugees from Syria discovered the identity of
Zugriff in Leipzig: Die Polizei fasst den verdächtigen Syrer von Chemnitz. https://t.co/nJVf7jreyH

— 20 Minuten (@20min) 10. Oktober 2016
Al Bakr from Syria arrested him in their flat, and informed the police.
Der "Helfer" aus https://t.co/i1n8GqFsDW bekommt bestimmt noch 1 reingewürgt wg. "Freiheitsberaubung", "Amtsanmaßung" usw., is klar, ne?

— Clemens Schrimpe (@csch42) 10. Oktober 2016
They met the terrorist at the Leipzig train station. He had phoned one of them, Mohammad A., and asked him to stay in his flat. Syrians help each other in exile. It is unclear how he got the telephone number.
He invited  Al Bakr into his one room apartment for where two other Syrians joined. He told them he just came from Syria.
When Mohammad went out and met friends, they discussed that  a Syrian was most wanted as member of IS. He asked his friends at home to take photos to check.
They made this photo of him on the sofa and mailed it to him.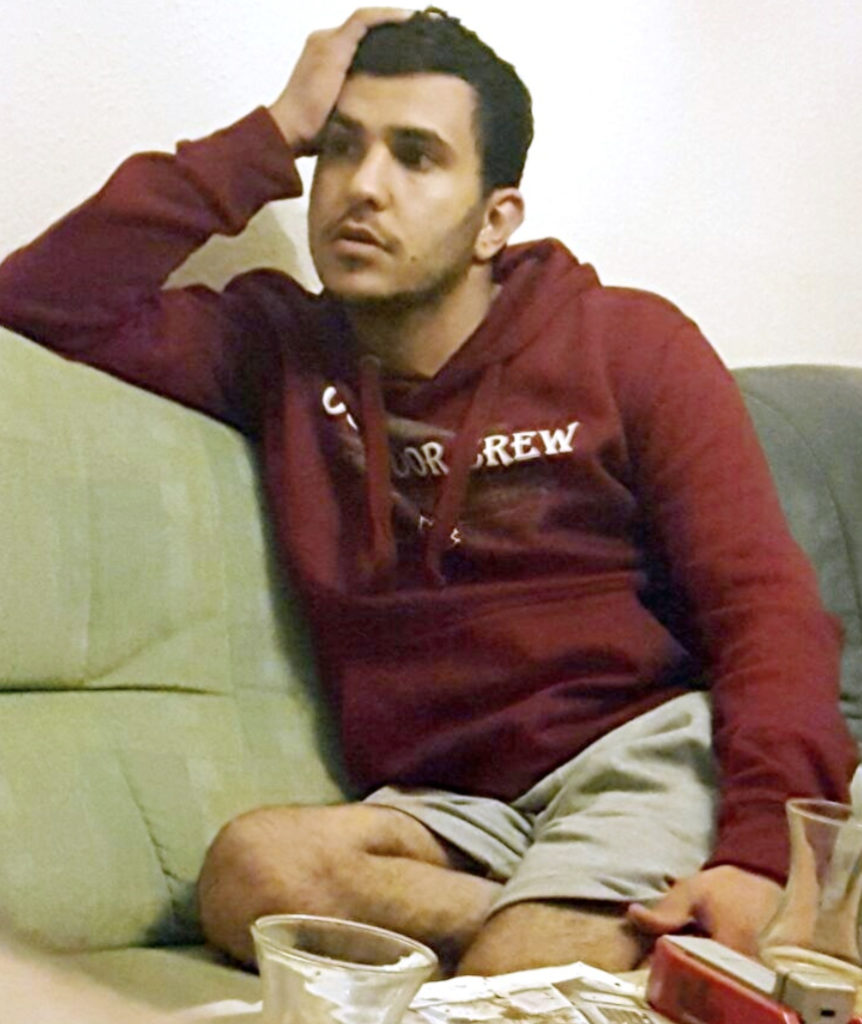 They checked the information of the man-hunt by the police in Saxony in social media, which has been published there in Arabic as well, and found out that it must be the terrorist.
Now  his two Syrian friends in the flat  arrested Al Bakr, who was sleeping, and fixed him with cables (social media photo below).
Mohammad went to the next police station. But nobody could understand him.
After a while he showed the policemen the photo with the terrorist arrested.
Now the police rushed to the flat to pick the most-wanted up.
The terrorist offered the two Syrians in the flat € 1,000  and $ 300 in cash to release him, but both poor refugees declined.
All three involved  had left Syria because of the terror of IS. Now they were acting like heroes against IS terror in their new Heimat in Germany.
Why? One of them, Mohammad told the media: " I am thankful that Germany has taken us. We could not let something happen to Germany!"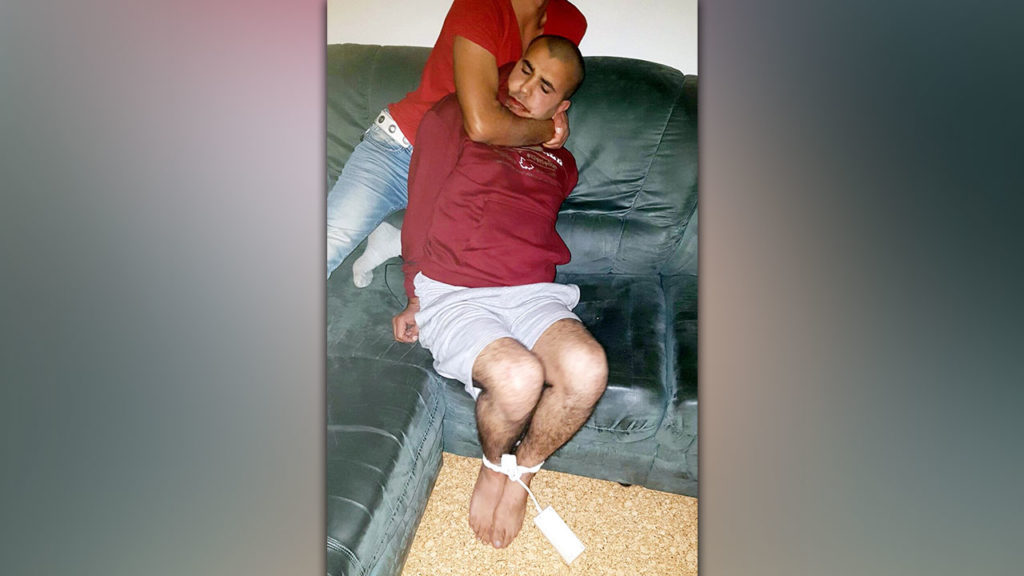 German Chancellor Angela Merkel and Saxonian Prime Minister Stanislaw Tillich thanked them for their courage and actions.
Without this tip and action by two brave Syrian refugees, this IS  terrorist could still be on the run.
What has happened before? The police in Germany stopped an ISIS (IS) plot and bomb attack in Chemnitz, a 200,000 people city, in the east in the state of Saxony.
Die Polizei fürchtet, der gesuchte Syrer könnte gefährlichen Sprengstoff bei sich tragen. #Chemnitz https://t.co/qF6Qd1eloN

— ZDF heute (@ZDFheute) 8. Oktober 2016
Saxony Police released images of Syrian-born Jaber Al Bakr (on top and below), born January 10, 1994 in Damascus.
The police observed him and took the photos.  But he slipped away with a rucksack, a mistake by the police.  He is now still on the run, maybe armed and with explosives in his hands and very dangerous.
The police arrested three other suspects in Chemnitz, two at the main train station. Only one of them is still under arrest. A new arrest was reported this Sunday.
Terrorista siriano sfuggito a polizia a #Chemnitz in Germania. C'è nesso con #Isis https://t.co/dOA3pkmPNH pic.twitter.com/sYDw6qelWU

— Agenzia ANSA (@Agenzia_Ansa) 8. Oktober 201
Special police found 500 grams of "an explosive substances" in his apartment in the Fritz-Heckert district and told the media it is a "highly explosive mix of substance." As well they found one kilogram of aceton and hydrogen peroxide.
They discovered the favorite ISIS explosive named TATP. It was used for the deadly attacks by ISIS in Paris and in Brussels and by al Qaida in London and Madrid before  and is called by the terrorists "Mother of the Devil". It is acetone peroxide, which can be mixed using two substances you can buy (aceton and hydrogen peroxide) in many shops. But you need good expertise, as TATP explodes quickly, for example when it get too warm. The intelligence services think the suspect was trained by the IS in Syria on how to build those bombs. He also used information from the internet.
A red suitcase was checked at the train station, but no explosives found inside.
GLOBALO learned from a top intelligence officer: Several intelligence agencies, among them the CIA, French and Israel secret services, had informed the German external BND about a planed attack by IS in Germany.  The BND added its own research. They all helped to find the man in Chemnitz. The BND informed the German Interior Intelligence Services (Bundesamt für Verfassungsschutz), which is responsible for anti-terror actions within Germany and this office informed the local police in the federal state of Saxonia.
The Saxonian police carried out a controlled explosion to gain access to the apartment and will explode the found substance near by.
They decided the help of the federal GSG 9 special unit.
The German intelligence believes that Jaber Al Bakr planed to attack an airport in Berlin (Tegel or Schönefeld). Security was increased.
18:33 Uhr: Berlins Polizei ruft zusätzliche Kräfte in den Dienst https://t.co/q0w76jqYmE

— DasDeutscheVolk (@uwe2601) 8. Oktober 2016
People were warned to stay indoors while the police raid was under way.
Read here more about the IS terror threat and the recent four attacks in Germany.