Religious pluralism in the Middle-East represent a broader reality than the plurality of religions. Other aspect of pluralism, than the approach by religious affiliation, are even more determinant to the Christian presence in the Middle-East, both as opportunities and challenges.
One also should not forget that the ethnic and linguistic diversity is very present in the region, and very influential on the level of social development and conflict dynamics. (see: Maps 1,2) The Kurdish population for example who are Sunni – as most of the Turkish, Syrian and North Iraqi – represents today one of the major focal points of the conflict in this region, including the Russian-Turkish tensions nowadays.
The new Iraqi Constitution written after the 2003 war introduced a major change in the perception of Christian presence in the country. In spite of their ancient presence in the country and their essential contribution to its cultural development and dedication to the Arabic civilization, Iraqi Christians where ethnically identified, and not religiously, by the new Constitution as being Assyro-Chaldean minority. From my point of view, this had a direct impact on the community and limited the chances of its survival in a context dominated by the tension between 3 "majorities": the Shiite, the Sunni Arab, and the Kurd communities (who are also Sunni in their majority), whereas the common Arab national identity was the guarantee of their total integration in a shared public sphere and national life.
Here is a breakdow of the numbers from my recent presentation:
RELIGIONS IN THE MIDDLE-EAST
Islam
Christianity
Judaism
Religious Minorities
Mazdeism
Yezidism
Samaritans
Shabakism
Zoroastrianism
Kakaism
Bahaism
Migrants' religions
Hinduism
Buddhism
Sikhism
RELIGIOUS DENOMINATIONS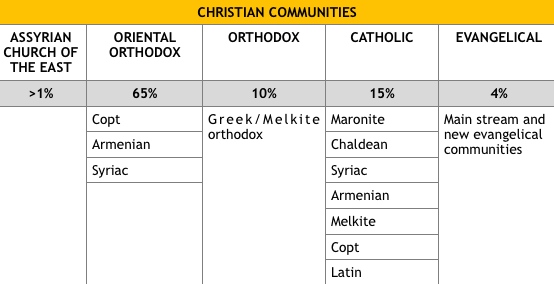 CHRISTIAN DEMOGRAPHICS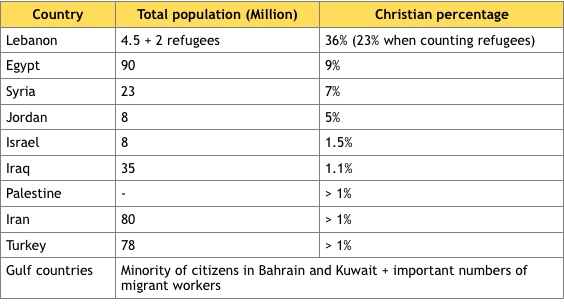 RELIGIOUS CURRENTS AND IDEOLOGIES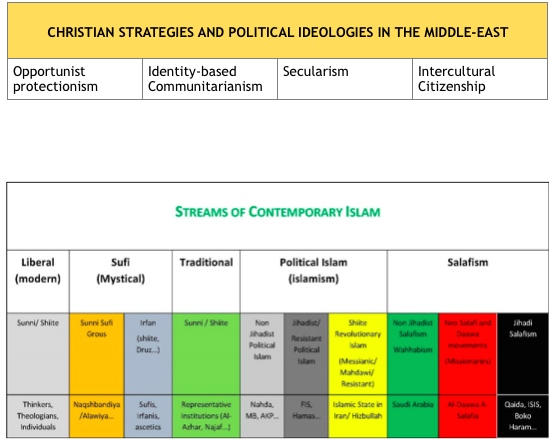 CHALLENGING FACTORS AND THREATS FOR RELIGIOUS PLURALISM
Failure of nation-state-building and sectarian politics
Destructed societies Political Corruption
Hidden and explicit extremism
Lack of international credibility
CONLCUSION
Hannah Arendt: "It is in the emptiness of thought that evil exists".
Today in the Middle-East, we can say: it is in the emptiness of hope and vision that Daesh exists; and we are all responsible of this situation.
Fadi Daou is the Chairperson at the Adyan Foundation from Lebanon.