The wealthy, but tiny Gulf state United Arab Emirates (UAE) does not only have the highest building in the world, but as well a visionary leader: Shaikh Mohammed bin Rashid Al Maktoum.
He serves as the Vice-President and Prime Minister of the UAE and Ruler of Dubai.
He appointed a new cabinet with 29 members, including seven young women, with three modern ministries.
Al Maktoum explained:
"The new appointed ministers will drive policy to create social good and satisfaction. We have now more ministers capable of dealing with change. We want a young and flexible government that will fulfil our youth's aspirations and achieve our people's ambitions."
He announced three new ministries and an influential Youth Council, you hardly can find in any other of the 193 states on earth:
A Minister of State for Tolerance will "inculcate tolerance as a fundamental value in the UAE." Appointed was Shaikha Lubna Al Qasimi.
A Minister of State for Happiness.

"We introduced the post of Minister of State for Happiness whose mission is to channel policies and plans to achieve a happier society," Shaikh Mohammad tweeted. He told "

happiness in our country is not a wish anymore; rather, it will incorporate programs, plans, and performance indexes. It will be part of the daily functioning of all our ministries, as well as a part of our lifestyle."

A new

Minister of Youth

and a 

UAE Youth Council

 is established, 

"to  bring together young men and women under the age of 22 to serve as government advisors on youth issues. This elite group of young men and women would advise the UAE government on youth issues." A

l

Maktoum 

announced.

 

"The energy of youth will fuel our government in the future."

 The minister is as well the 

Chairperson of the Youth Council, which "will represent the youth's ambitions and issues; we will provide her with authorities and I expect genuine accomplishments from her and her council."
The first Minister for Tolerance is Sheikha Lubna bint Khalid bin Sultan Al Qasimi (photo).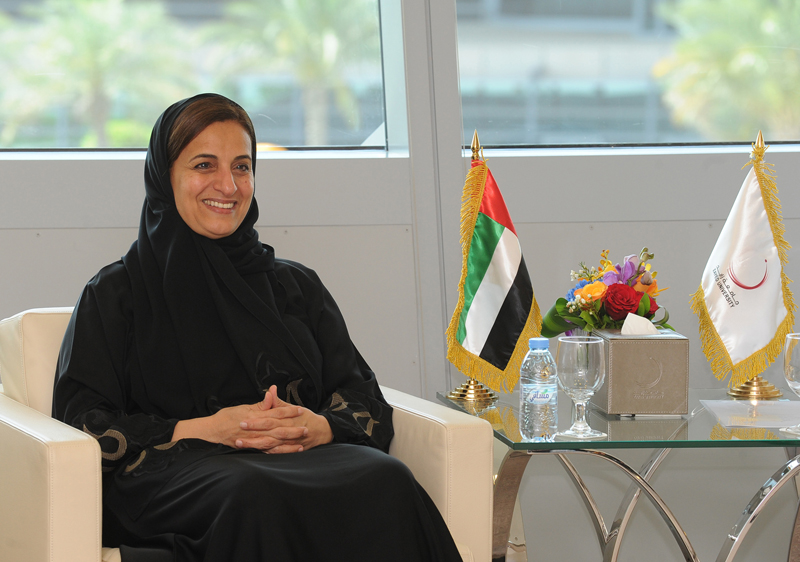 She was Minister for Foreign Trade and previously Minister of Economic and Planning, appointed on 1 November 2004. Sheikha Lubna was the first woman to hold a ministerial post in the United Arab Emirates. She is a member of the ruling family of the third largest emirate Sharjah. Lubna graduated from the California State University  with a Bachelor's Degree in Computer Science, and has an Executive MBA from the American University of Sharjah. Lubna received an honorary doctorate of science from California State University, Chico. In March 2014 she was appointed President of Zayed University. 2015 she was listed as the 42nd most powerful woman in the world by Forbes magazine.
The first appointed Minister for Happiness is Mrs. Ohood Khalfan Al Roumi.
She was Director General of the Prime Minister's Office of the UAE. Her task was to  oversee multiple strategic projects and initiatives. The United Nations Foundation recently announced the selection of Ms. Al-Roumi for membership to the Global Entrepreneurship Council (GEC), making her the first Arab member in the council. Ms. Al Roumi also made the Young Global Leaders (YGL) list at the World Economic Forum (WEF) in the year 2012 and is a board member of Dubai Museum of the Future Foundation. Al-Roumi holds an Executive Master's in Business Administration (EMBA) from the University of Sharjah and a Bachelor's in Economics from the College of Business and Economics, United Arab Emirates University. She is also a graduate from the Mohammed Bin Rashid Program for Leadership Development.
Shamma al Mazrui was appointed the first Minister for Youth.
She obtained her Masters of Public policy with distinction from the University of Oxford and was the first UAE Rhodes Scholar. She is also holder of a diploma of coursework on multi-sector partnerships at New York University. Her Bachelor of Science is in Arts and Economics from New York University in Abu Dhabi. Shamma currently works at one of Abu Dhabi's Sovereign Wealth Funds. She has previously worked as a public policy analyst with the UAE Mission to the United Nations. She has also worked as a Ministry Policy Analyst with the Prime Minister's Office and participated in the Youth Lab Innovation Think Tank. Shamma received the HH Sheikh Mansoor bin Zayed (Scholarship Coordination Office) Distinction Award in 2015, and the Coutts Future Leader 2015 Award. She also was an Academy of Achievement Delegate Scholar at the San Francisco Summit 2014.
The President of the UAE, Shaikh Khalifa bin Zayed Al Nahyan, approved a large-scale restructuring of the federal government.
Important Shaikh Mohammed said that "in the new structure of Federal government, we will have a road map for outsourcing most of the government services to the private sector". "The new government is comprised of less ministries but more ministers handling national, strategic and dynamic files." Shaikh Mohammad told his followers on Twitter "the new Cabinet is a new phase, entitled future, youth, happiness, development of education and addressing the climate change to protect our environment."
The promoting of tolerance had been the vision of the Founder of the UAE, Shaikh Zayed (picture below). Two  sons are now the President of the UAE and the ruler of Abu Dhabi.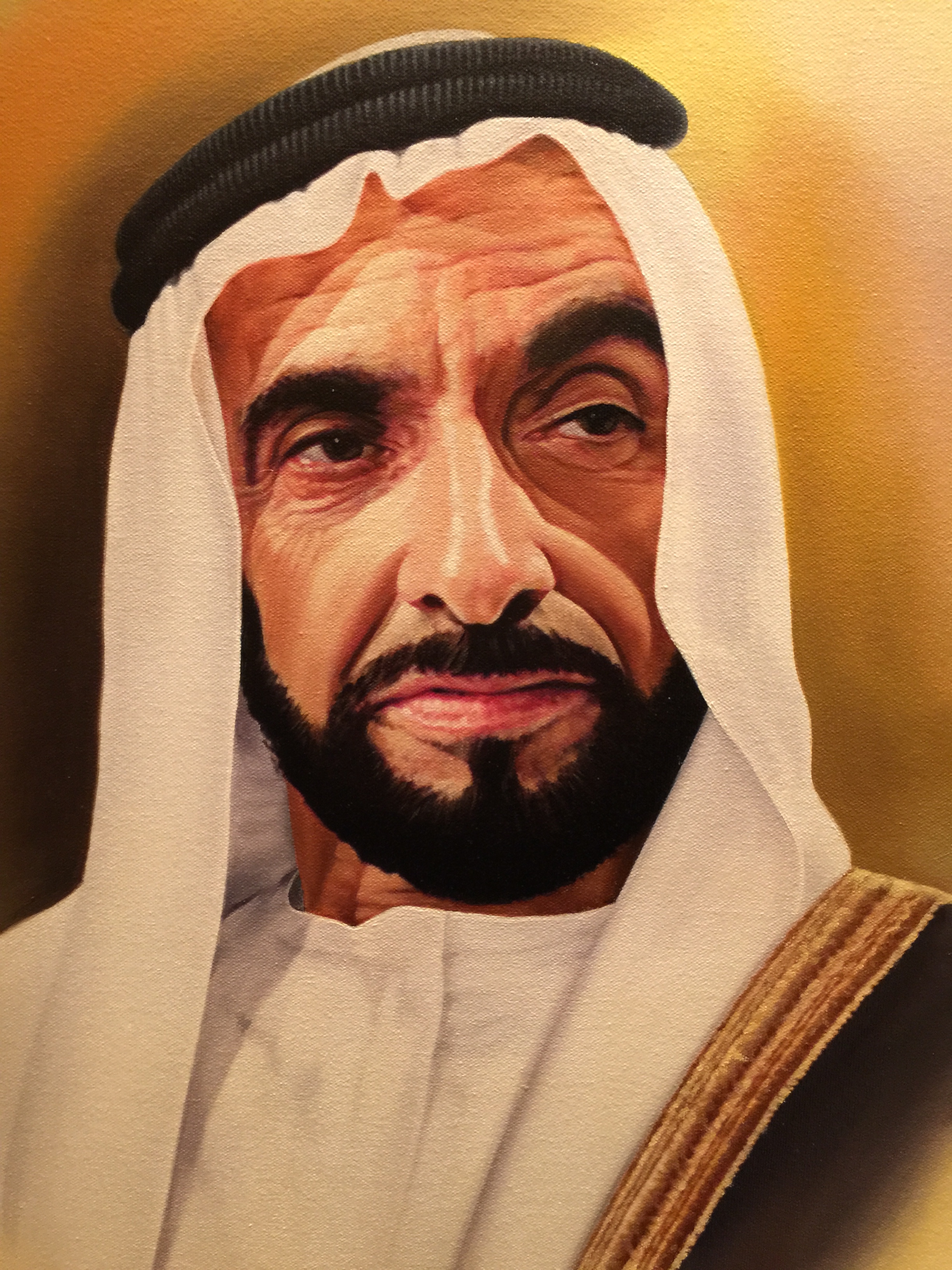 First in my speech about the Codes of Tolerance during the Women as Global Leaders Conference of Zayed University March 6, 2008, later with in the presentation of my Arab book  Codes of Tolerance at the Abu Dhabi book fair in May 2015 and in several meetings with Shaikh Nahyan Bin Mubarak Al Nahyan, now the Minister of Culture and Knowledge Development (picture on top), I promoted several times to implement the message of the founder of the UAE by  promoting an active tolerance policy towards other religions and ethnic minorities.
Chapter 6 of my tolerance- book  proposed  in rule number two "to appoint a special minister for tolerance." (in Arabic published in Cairo by www.alarabipublishing.com.eg)  I am pleased it is done now in this progressive Gulf state. More nations should follow this best practice.