The United States has fired 59 Tomahawk cruise missiles at a Syrian government airfield, marking the first direct unilateral military action that Washington has taken against regime forces in the six-year-old conflict.
Missiles were launched from two Navy destroyers in the Mediterranean Sea targeting the base's airstrips, hangars, control tower and ammunition areas.
Syrian army has denounced US "aggression" saying that they have violated international law.
At least six people were killed in the strikes, dozens wounded.
This military action from the US follows a suspected chemical attack in Idlib province that killed at least 86 people including 27 children. The Pentagon has said that the Tomahawk missiles struck Shayrat airfield at 3:45am on Friday, this is where they believe the Syrian jets that dropped the chemicals had taken off.
The Syrian government said that the attacks made the US a partner of "terrorist groups". The UK-based Syrian Observatory for Human Rights said the airbase was almost destroyed.
"I stress, once again, that the Syrian Arab Army did not and will not use such weapons even against the terrorists who are targeting our people," Syria's Foreign Minister Walid Muallem told reporters in Damascus on Thursday.
Trump on suspected Syrian chemical weapon attack: "Even beautiful babies were cruelly murdered in this very barbaric attack" pic.twitter.com/K82PApLA7g

— BuzzFeed News (@BuzzFeedNews) April 7, 2017
"There can be no dispute that Syria used banned chemical weapons, violated its obligations under the chemical weapons convention and ignored the urging of the UN Security Council," Trump said.
Christopher Swift, professor of national security studies at Georgetown University questions whether the Trump administration's response was an impulsive decision or a strategic one.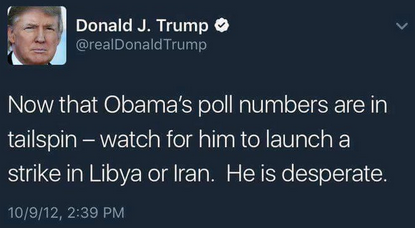 "It's not clear to me, yet, whether this administration has thought through the implications of the actions they took this evening," he said. "If the president has a plan, then it will be interesting to see how that plan comes through. But if he doesn't, he may have done more harm than good."
While this might be a one off-operation, it now means that it will be difficult for Trump to remove himself from the discussion over the future of Syria, along with the political future of Assad and the UN backed peace talks. Trump has made the US now the center of it all.
The irony when a President bombs a country to save its people ,yet shuts the door in their faces when they flee. #Syria #LongliveSyria ??

— Maharan Masum (@MaharanMasum) April 7, 2017
The world reacts
Trump has defended the attacks on the airbase as an action that is in America's "vital national security interest".
Syria's opposition National Coalition hailed the US strike, saying that it puts an end to the "impunity" the regime benefited from, and that it should just be the beginning.
Saudi Arabia said that it "fully supports" the strikes, commendeing President Trump for a "courageous decision". "A responsible source at the foreign ministry expressed the Kingdom of Saudi Arabia's full support for the American military operations on military targets in Syria, which came as a response to the Syrian regime's use of chemical weapons against innocent civilians," a statement carried by state news agency SPA said.
Saudi Arabia holds President Bashar al-Assad responsible for the deaths of dozens of civilians in in Khan Sheikhoun.
After tonight, media, public & congress will be tested.

Can we stay focused on Trump/Russia, conflicts, Trumpcare? Or only war?#Resist

— State of Resistance (@AltStateDpt) April 7, 2017
Turkey has said that they view the US missile strikes positively, urging the international community to continue to rally against the "barbarity" of the Assad government. "As our president clearly said, we want to see action not just words. In this sense the USA striking the military base there is … significant, important," Deputy Prime Minister Numan Kurtulmus said. "But the international community must clearly sustain its stance against the barbarity of the Assad regime until it can no longer harm the people," he added.
If we care about suffering of people, there are lots of things we can do other than war: let in refugees, fully fund humanitarian operations

— Christopher Hayes (@chrislhayes) April 6, 2017
Israeli Prime Minister Benjamin Netanyahu said on Friday he supports the "strong and clear message" sent by the US strikes, saying that their military was informed in advance of the attacks. "In both word and action, President Trump sent a strong and clear message today that the use and spread of chemical weapons will not be tolerated," a statement from Netanyahu's office said.
"Israel fully supports President Trump's decision and hopes that this message of resolve in the face of the Assad regime's horrific actions will resonate not only in Damascus, but in Tehran, Pyongyang and elsewhere."
Hillary Clinton called for action against Assad just hours before the airstrikes in an appearance at the Women's World Summit in New York City. "I really believe that we should have and still should take out his air fields and prevent him from being able to use them to bomb innocent people and drop sarin gas on them," Clinton said.
The Pentagon has released the footage showing the military strike in Syria https://t.co/6Sxh2gd30B pic.twitter.com/e78jScivqv

— CNN International (@cnni) April 7, 2017
Perennial allies of the US, Australia and the UK, also came out in support of the United States' military action.
Negative reactions
But the Russian government has condemned the strikes by the US, saying Washington's action would "inflict major damage on US-Russia ties", labelling the US move as "aggression against a sovereign state in violation of international law".
On Tuesday, Russia denied that Assad forces were responsible for using chemical weapons on its people. Russia has a long track record of denying its own responsibility or the responsibility of its Syrian allies for atrocities committed during Syria's civil war.
Dmitry Peskov, spokesperson of Russian president Vladimir Putin, said "Putin views the US strikes on Syria as aggression against a sovereign state in violation of the norms of international law and on a made-up up pretext. Washington's step will inflict major damage on US-Russia ties."
US Secretary of State Rex Tillerson, speaking just after the strikes were announced, said Russia had "failed in its responsibility" to deliver on a 2013 deal it helped broker to destroy Syria's chemical weapons arsenal.
"So either Russia has been complicit or Russia has been incompetent in its ability to deliver on that agreement," Tillerson said. A United Nations mission in 2014 confirmed that Assad's chemical arsenal had been eliminated.
Peskov had told the Associated Press on Thursday that Russia's support for Assad was not unconditional, but insisted that Russia wants to see a full investigation into the use of chemical weapons in Syria before the United Nations takes any action. "Syria does not have chemical arms stockpiles," he said.
Additionally, Iran, who are allied with Assad in the conflict also strongly condemn the missile strikes. "Iran strongly condemns any such unilateral strikes … such measures will strengthen terrorists in Syria … and it will complicate the situation in Syria and the region," ISNA news agency quoted Foreign Ministry spokesman Bahram Qasemi as saying.
Trump: "Assad choked out the lives of helpless men, women and children." Full transcript: pic.twitter.com/95ZEo1LCNY

— Abby D. Phillip (@abbydphillip) April 7, 2017
Oil prices in New York and London spike after U.S. launches a missile attack against Syria https://t.co/2xnltqGvaN pic.twitter.com/Mf3qGe77g2

— Bloomberg (@business) April 7, 2017